Lauree Jones doesn't class herself as the plastic police but she does want to make a difference – one reusable bag at a time. Lauree is the Enviroschools Taranaki Regional Co-ordinator and she wants to launch the Boomerang Bag initiative across Taranaki, and she is always seeking needle-bearing recruits to help her create the reusable bags.
"This is Taranaki Enviroschools initiative to try to support the elimination of single use plastic bags and so this is just one way of doing that," she said.
"We want to get them [Boomerang Bags] out in the community as well as encouraging people to remember their re-usuable bags."
Boomerang Bags are reusable bags that volunteers create, the community uses, and then returns for another shopper to have the use. "It's a little bit like taking your own reusable cup to a coffee shop and getting it refilled, or using your own water bottle," Lauree says. "They're all very similar concepts."
"It's just about getting local schools and local communities to get on board with this – to start sewing for us, and actually just using these bags," she said.
"What we'd love to have happening is all the bags sewn in the South Taranaki region, stay in the South Taranaki region. Same with the Stratford, and same with the New Plymouth area."
Boomerang Bags started in Australia but has since spread worldwide. The  using single-use plastic bags.
The bags will hopefully soon be found in places like libraries, farmers markets and boutiques rather than supermarkets.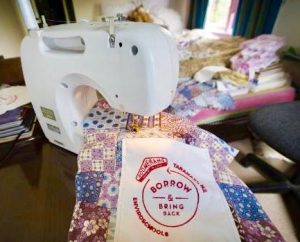 "The places where we're grabbing up to 10 items, rather than 70…."
Jones said if anyone was willing to help, she'd send them a pattern, and the pockets with the logo on them.
"People can do it as a one off or they can do it over a long period of time," she said.
"We can't feel that individually we can solve global issues but one person's actions, one thing done and repeated again and again, it certainly makes a difference."
If you're interested in helping with sewing, or donating materials such as fabric, empty calf bags, or even wallpaper, contact Lauree via email at Lauree.Jones@trc.govt.nz.
Original article: Taranaki Daily News