Working together to eradicate litter and plastic pollution in local communities and Aotearoa.
Litterati is an app and online community that aims to 'crowdsource clean the Earth'. The app allows you to photograph litter before disposing of it and then suggests a geographical tag and what kind of rubbish it is. Users from all over Aotearoa can then see what kind of litter is being found, where it is and how much there is. https://www.sciencelearn.org.nz/resources/2752-litterati.
This information is hugely useful and has been used for getting policy changes, helping students change school rules, inspire communities and just generally helping people to manage waste better. When we truly see how much plastic, paper, etc. is lying around out there – we can work better as a team to find solutions.
Some examples of learning outcomes for students:
categorise a variety of different litter types based on their properties
interpret visual representations of data relating to litter types collected
explain about the source and major contributors of litter in their own area
apply their knowledge to suggest a variety of strategies for getting rid of particular types of litter in their own area.
In addition to being useful, the team at RefillNZ think it is really fun!
And as there's nothing like a bit of friendly competition to get the job done – they are setting up a Litterati Challenge South Island and Litterati Challenge North Island.
Your school can join the challenge – and help identify problems in your local community, as well as contribute to what is causing the most litter in NZ.
The Enviroschools Zero Waste Theme Area resource has lots of great wrap-around learning and ideas for other activities you can use to support or enhance the outcomes from this Rubbish Challenge.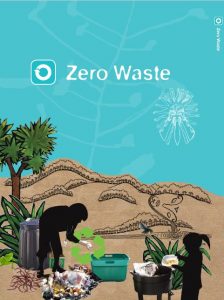 "The waste hierarchy, or three R's of waste management – Reduce, Reuse, Recycle – offers a starting point for exploring solutions that can be implemented in Enviroschools. Reducing and reusing are more effective than recycling, due to the energy needed to transport and reprocess the recycled materials. Students can assess their Enviroschool's and their own personal purchases and question what they are made of, how long they will last, how they are packaged and whether they are really even needed in the first place." (exert from Enviroschools Zero Waste Theme Area introduction page 8)
To receive more information please fill in the simple form (this information will NOT be shared). RefillNZ Rubbish Challenge – registration of interest.
To download the App – on either App Store or Google Play Store.