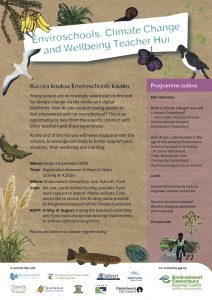 Young people are increasingly aware and confronted by climate change via the media and digital platforms. How do you support young people to feel empowered and not overwhelmed? This is an opportunity to hear from the experts, connect with other teachers and share experiences.
At the end of this hui you will leave equipped with the science, knowledge and tools to better support your students, their wellbeing and learning.
When: Friday 4 September 2020
Time: Registration between 8.00am-8.30am, Closing at 4.30pm
Where: Environment Canterbury, 200 Tuam St, Chch
For more information please contact your Enviroschools Facilitator.