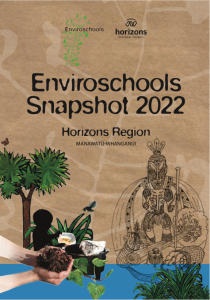 The Enviroschools Manawatū – Wanganui team have recently released a celebratory Snapshot of their mahi within their Horizons Region.
The booklet showcases the Enviroschools Programme and gives examples of what this looks like in Manawatū – Wanganui: in-depth facilitation, teacher events, student events, and working with community groups.
There are spotlights on specific schools and ECE centres across all districts and the actions they have takenYou can browse and enjoy this uplifting publication here!