Heidi Mardon's contribution to the field of Environmental Education for Sustainability over the past 20 years was acknowledged in a ceremony on 14th May where she was awarded membership to the prestigious New Zealand Order of Merit.
The Order is awarded to those who in any field of endeavour, have rendered meritorious service to the Crown and the nation or who have become distinguished by their eminence, talents, contributions, or other merits.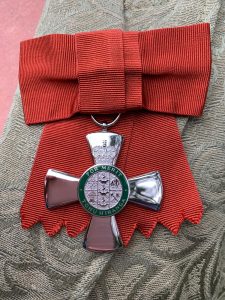 As the founding director of Enviroschools, Heidi has been a driving force in the field of Environmental Education for Sustainability and her leadership in developing experiential, holistic, and integrated sustainability learning has been pivotal for environmental education in New Zealand.
Heidi is the Chief Executive of Toimata Foundation (previously The Enviroschools Foundation) which is New Zealand's largest and longest running education and sustainability programme involving over a third of New Zealand's schools.
The vision of Toimata Foundation is enacted through the Enviroschools Programme, and Te Aho Tū Roa, a kaupapa Māori programme in Te Reo Māori. Both of these programmes have a strong community focus and have created a nationwide network for incorporating sustainability practice into everyday life.
Ka mau te wehi Heidi, we are all so proud of you!