Cromwell Primary School in Otago has recently become a Green-Gold Enviroschool. Beccy Dove, in her role as Facilitator Support for the National Enviroschools team, visited this school for a Sharing and Decision-Making day, along with the Enviroschools Otago team. Here Beccy tells us what she heard about the approaches that Cromwell Primary School have taken to strengthen their Enviroschools kaupapa.
Integration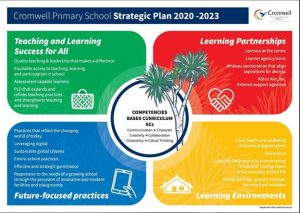 On May 12th I was inspired by the principal, teachers and students from Cromwell Primary School at their Green-Gold Sharing and Decision-Making day. The day began with our Enviroschools team spending an inspirational hour with Principal Wendy Brooks and the chair of the Board of Trustees. Wendy shared a poster they had created of their Strategic Plan and explained how the goals support the integration of the Enviroschools Guiding Principles and Whole School Approach.
Learning Partnerships
Community connections are strong at Cromwell Primary with learning partnerships being nurtured between students, whānau, teachers, experts and community (including iwi and hapū). On their website the school describes how these partnerships are "crucial to the hauora of all tamariki in our kura". This was evident in the recent inquiries the students had been involved with; including working with NIWA on air quality, establishing a 'Junior Guardians of the Lake' group after working with the adult group to improve the life of the lake, learning from local Bee keepers, Gardeners and a Kaumātua who shared treasured pūrākau from the area.
Learning Environments
Teachers are committed to using a range of environments to enable students to learn outside of the classroom and in context with the world around them. This was evident in their involvement in many community projects, digital citizenship and in their experiences and connections to the natural world inside and outside of the school gates.
Future – Focused Inquiry and Practices
The school uses practices such as student agency, tuākana – tēina connections, place-based learning, inquiry learning, project and problem-based learning, within the curriculum.
During 2020 they undertook a school-wide focus on 'Sustainability.' Teams (hubs) chose one of the Enviroschools Theme Areas (Living Landscapes, Water of Life, Zero Waste, Energy, Ecological Building) to help develop their understanding. Following their inquiry model they focused on an issue that they felt needed attention then identified the 'Current Situation' by observing, researching and finding out more about their chosen issue, gathering data and analysing it.  They 'Explored Alternatives' by visiting local sites, talking to experts and community members. Then each team made a plan of how to address the issues they had been inquiring into and 'Took Action'!
Some powerful initiatives emerged from this inquiry. One outcome was the establishment of a Community Pantry by a group of empowered students.  The food gardens were re-energised and excess kai was then shared with the community from the pantry. The junior hub had explored waste and began projects such as monitoring waste in their own classroom bins and setting up 'rubbish monitor' teams to keep the school environment tidy. Another class followed up their learning about bees with the creation of a website to share their learning and many actions to nurture bees in the school environment and at home.
These and other outcomes from these inquiries can be seen under the 5 Guiding Principles tabs in the Green–Gold Reflection part of the school website
Enviro Focused Community Of Learners (COL)
Wendy is also lead Principal for their Kahui ako/ Community of Learning (CoL). For the past two years they have been working on making their Kahui ako into an Enviro-focused one. All kura are now part of the Enviroschools programme and have made a commitment to integrate the kaupapa into their practices. They have worked on many events and projects together over the past year. One of these was an enviro- exhibition, celebrating Lake Dunstan through the eyes of the local children. This showcased projects, trips and movies dedicated to celebrating the lake and ideas from students on how they can care for it. An action that came from Cromwell students who became passionate to care for their lake, was to form the 'Junior Guardians of the Lake' group to support the already existing adult group.
Teachers from the Kahui ako also got together for a 'teacher only day' looking at 'Wellbeing'. This encompassed their own wellbeing as kaiako, and the wellbeing of their tamariki and whānau.  Besides other speakers, a local Kaumātua shared Māori history and pūrākau from the area. These stories have been taken back into schools and integrated into planning and teaching.  Cromwell have followed this up by inviting the Kaumātua to come in to work with students. Students are focusing on Tūrangawaewae next, and as part of this will be creating a bank of local pūrākau that can be held as taonga for the future.
Sustaining Enviroschools into the Future
Over time school management have strategically built up a team of people, teachers, teacher aides, caretaker, cleaner, gardener all with a strong passion for sustainability. This means that the Enviroschools Programme is not reliant on any one individual and that it can be sustained, and grow into the future.
Wendy describes how their journey has been "slow and steady" so that initiatives that are established can be sustained. They aim for "sticky learning" for students, so that they have a really deep understanding of why they want to create change.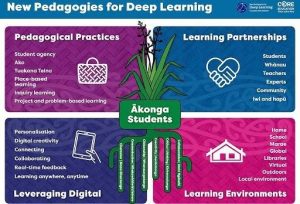 'New Pedagogies for Deep Learning' guides their curriculum. This is a way of teaching and learning designed to better prepare students for the changing world around them. It is woven through the school values and used in planning for and with students for their learning. It is integrated into the school vision and strategic plan and is part of their Enviroschools journey. They see that each of the four quadrants relates to and supports the kaupapa of Enviroschools.
Wendy believes that this way of learning has helped students gain real understanding.
"They can justify their opinions and are really empowered to lead the way with their learning and action". – Principal of Cromwell Primary School, Wendy Brooks
Banner image: Members if the 'Junior Guardians of the lake' share some of their journey and plans for the future with some of the Otago ES team.