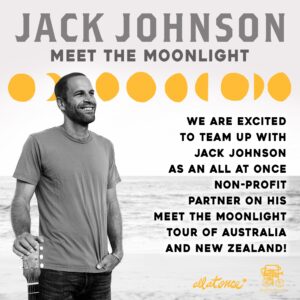 Jack Johnson Meet the Moonlight Tour 2022
We are excited to team up with Jack Johnson on his Meet the Moonlight Tour of Australia and New Zealand as an All At Once Non-Profit Partner!
The environment remains at the heart of Jack Johnson's touring with extensive sustainability programs at every show. Learn more at jackjohnsonmusic.com/greening 
Your Actions* Your Voice* Your choice
Jack Johnson's social action network All At Once builds community and promotes environmental action. At each concert fans connect with non-profits and learn about making change within their 3 spheres of influence: their actions, their voice and their choices. In addition to the concert experience, fans will be encouraged to take action in their daily lives to support local farmers and food security, to reduce single-use plastic waste by switching to reusables, and to get involved with local environmental projects.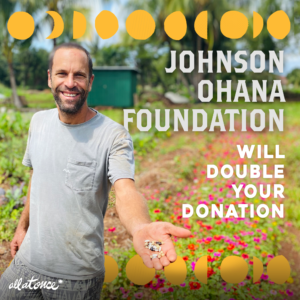 Visit us at the Village Green:
Visit us and check out the Enviroschools table in the Jack Johnson Village Green in Tāmaki Makaurau/Auckland on Saturday 10 December, and Ahuriri/Napier on Sunday 11 December.
Donations to Toimata Foundation and Enviroschools:
The Johnson Ohana Foundation is matching donations contributed to us at the Jack Johnson concerts or directly to our organisation from October 15 – December 31 2022, to a total of NZ$4200, so make a donation and it will be doubled by the Johnson Ohana Foundation https://givealittle.co.nz/cause/enviroschools-all-at-once