In response to many schools asking for help with reducing waste, we ran a zero-waste cluster meeting in March 2019, unpacking how to undertake a waste audit, giving teachers hands on time with both Enviroschools zero waste and waste teams resources (see banner photo).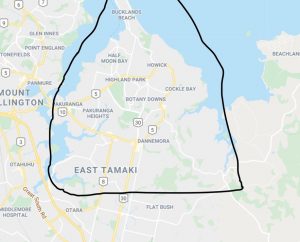 Then the local board offered us $40,000 to help them reduce waste to landfill through schools as they want to support community to deliver waste minimisation initiatives that are in line with the Council's zero waste by 2040 plan. They had seen how our Pest Free Howick pilot working with 44 large schools was engaging the community, so I think they identified schools as ideal places to change behaviour around waste.
Together with my manager Bridget Glasgow, we set a target of getting 20 schools involved to reduce their waste by 40 % in one year. Lorelle our fabulous local pest free champion/mother of 4 teenage boys and one 10 yr old daughter at a local Enviroschool (who was already working with us one day as week as Pest Free Howick Coordinator) was keen to work with us 1 day a week to as waste minimisation coordinator. She and I created a simple registration of interest form for schools and booked 27 visits in July. 24 schools applied.
We saw huge potential in reaching a high number of people within the community through engaging strategically through the schools to reduce waste. (24 schools with 16,141 students on the first day of the project 1st July 2019.)
All schools carried out a waste audit to look at their current situation and gather baseline data on how much waste they produced on a regular day. If they had never done a waste audit before we offered to come in to help them to run their 1st one, identify where most of their waste came from so they could start exploring alternative steps to reduce their waste to landfill by 40% in one year, and how to involve their whole school in these actions.
Once we received their audit results and plan, schools could apply for up to $1000 Howick Local Board funding towards resources like worm farms to help them to reduce waste. To simplify finding suitable solutions, we decided to hold an Waste minimizing Expert Expo to help explore alternatives and connect them directly with multiple experts/ providers, partners, businesses at one time, saving hours on the internet looking and gathering quotes.
Howick Primary offered to host (the principal, Leyette Callister, has a long association with Enviroschools and Environmental Education for Sustainability). We started researching and inviting a wide range of waste experts because some of these schools had been reducing waste for some years, so their needs differed. 17 organisations responded enthusiastically. We were delighted several were local champions. Several were young entrepreneurs with innovative solutions. Lorelle asked them to prepare a two-minute promotion and bring a display or items they sale.
On the day two young Indonesia volunteers from University of Auckland learned as they helped. The university had asked if we could take them out with us so they could get ideas to engage, educate and empower their communities back home in Indonesia to reduce waste. They helped me shop, prepare and pack $100 dollars of in-season zero waste food, tea and coffee.
Once the hall was set up and participants had arrived and settled in the host school and brand-new local council Board chair and team welcomed us. Keynote speaker Lucy Pierpoint then shared how waste links to reduced carbon emissions. Students at Howick primary shared their journey to reduce waste.
Before students listened to a two-minute elevator pitch from each expert group, we asked them "Where on the Waste Hierarchy do you need to focus?" As they listened to the elevator pitch from each expert group, they were invited to fill in "a dance card" to identify organisations they most needed to talk/dance with after the presentations. Then the real synergy began as schools moved around searching for the experts on their dance cards to discuss if they were able to help solve waste issues. Schools got to touch product, check if it would be useful for their context, ask for quotes or business cards so they could follow-up when back at school.
Experts connected and local board connected with each other. Several innovators really captured hearts and minds. We received feedback from all parties that was positive as everyone's needs were met.
With Covid 19 the planned waste minimisation action plans have been interrupted. We have had to extend our timeline as schools are just getting waste minimisation systems back up and running so all waste audits need to be completed by the end of term 2. Anchorage Park school have reported that they have reduced their waste by 69.1 % Hopefully other schools will have made a difference too.
On reflection, the expo was so successful was because it brought together three groups totaling 81 highly committed people in one school hall.
1. Our experts with diverse ideas on how to reduce waste and wanting to share & learn more.
2. Students/ teachers needing ideas to reduce waste by 40 % appropriate for their situation.
3.The local board with commitment and funding to help reduce Waste to Landfill.
When we have all have commitment focus and can be supported then change can happen.
"Thanks for the opportunity to meet with so many passionate experts last week. I have already submitted our forms, although we need a bit more time to investigate quotes etc"  – Our Lady star of the Sea School
"Adele, John, Bruce and I attended an excellent Waste Expo afternoon held at Howick Primary. I will be sharing with you soon some excellent initiatives and products I learnt about that can benefit us all!"– local Howick board.
For those registered to access the Enviroschools team area you can find out about Pakuranga Heights School planning and learning approach to their waste journey here.