Secondary professional development hui sparks interest
Enviroschools Facilitator Jacque Knight stands at the front of the room, directing attention to the image of a person juggling too many balls. The slide, entitled 'Teachers on Including Practical Projects', is Jacque's light-hearted reference to the struggle that secondary school teachers can face in incorporating cross curricular action-based learning into their teaching timetable.
Jacque was one of nine presenters speaking at the Enviroschools Secondary Hui in Wellington in March this year. The purpose of the hui was to explore effective models and in-depth case studies that have been collected from facilitators and teachers working with the Enviroschools kaupapa in the secondary sector.
Secondary school teachers and Enviroschools Regional Coordinators and Facilitators travelled from all over Aotearoa to participate in the hui and the room was zinging with energy.
Some of the effective models and examples that were shared were:
Practising Cross Curricular Project Based Learning – Jacque Knight, Enviroschools Facilitator Northland
Cashmere High School eco-habitat / Tāne-te-waiora Riparian restoration  A timeline capturing the highs and lows of an in-school riparian restoration project – Matt Stanford, Enviroschools Facilitator Canterbury
Development of Student Empowerment through the Enviroschools Programme – Mary McKnight, Lead Enviroschools Teacher at Hillcrest High School, Hamilton
Wellington East Girls' College Enviro Committee Model – Chloe Bisley-Wright, Enviroschools Facilitator, Wellington
Relationships = Partnerships = Success – Heidi James, Motueka High School, Tasman.
Marlborough Girls College – the road to Silver – the power of reflecting on a longer term journey – Annie McDonald, Enviroschools Regional Coordinator, Marlborough
Waimea Inlet – How a cross-curricular action learning approach in a local environment has multiple benefits – Roger Wadell, Head teacher, Nelson
A reflection on the journey of 'Roots and Shoots', a student-led group at Kristin School, Auckland – Glenis Paul, Enviroschools Coordinator, Nayland College, Nelson (previously at Kristin School, Auckland) and Sarah Wakeford, Service Learning Coordinator, Kristin School, Auckland
Lincoln High School Bioblitz – A Y10 Nature of Science project – Matt Stanford, Enviroschools Facilitator Canterbury
We also had Sophie Handford (Enviroschools Intern 2019) come along and share her journey at an Enviroschool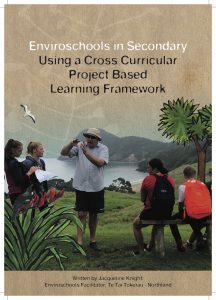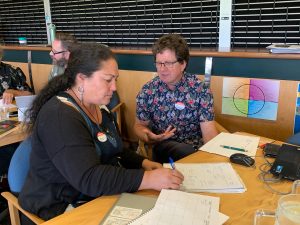 The growth I have seen with our students this year has been phenomenal," said Mary McKnight as we looked back over the strategies put in place to strengthen the Enviroschools programme in Hillcrest High School.
Secondary teacher Siobhan Skinner says about the Enviroschools kaupapa 'It links to the Level 2 Education for Sustainability standard which talks about cultural, economic and social sustainability as well as the environmental'.  One of her students said that 'they love being able to look into the wider community, see a problem or see a need, and know they have a vehicle to do something about it'.
The Enviroschools Secondary Hui gave participants new knowledge, resources, and techniques along with the message – your own passion can be the most strongest resource of all.
NB: Teachers and facilitators can access the above presentations and case studies by logging into the Team Area.