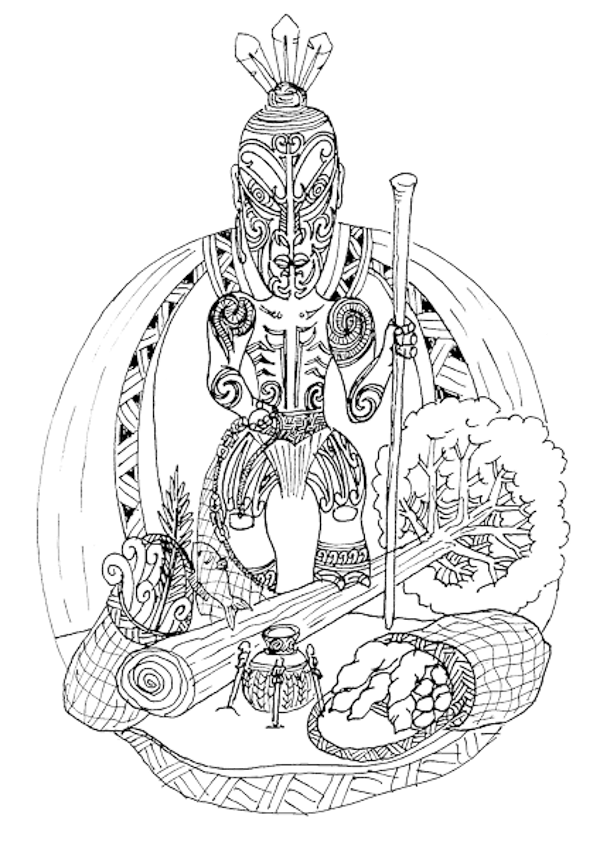 Tūmatauenga: atua qualities of focus, perseverance steadfastness, endurance.
Involving young people in decision-making and action enables them to become active environmental citizens for life, and enriches the development of the whole learning community. The aim of Enviroschools is to support young people to become confident to initiate and manage projects themselves and to choose to work in partnership with others in a climate of trust.
Below we have examples of what leadership and vision looks like as young people leave their Enviroschools and enter into the next phase of engagement and action.
Matilda (Tilly) King
Kia ora, my name is Matilda (Tilly) King. I was an Enviroclub lead at Waitaki Girls High School in Ōamaru, my final year being 2021. I am currently studying Environmental Science at Te Whare Wānanga o Waitaha/University of Canterbury.
Enviroschools played a huge part in shaping who I am, what I care about and empowered my passion for protecting te taiao and our communities. This summer, I have been interning at the Waitaki District Council, where I have been exploring the types of environmental mahi within local government. After university, I would love to embark on a career in conservation, but I am still exploring opportunities.
My passion is to continue giving back to our planet and our people both in my professional life and personal and living, breathing and actioning the Enviroschools kaupapa wherever I go.
See here for Tilly's encouragement to future Enviro-leaders and her experience as an intern at Waitaki District Council.
Ethan Reille
Kia ora whanau! My name is Ethan Reille and I am a passionate 18-year-old, keen youth advocate for issues such as climate change, mental health, youth voice and human rights. I have recently graduated from Waitaki Boys' High School and am undertaking a gap year. Enviroschools was my stepping stone when I first moved to Ōamaru, Waitaki in 2018. I wanted to know how I could give back to such a welcoming community, and where I could play my role in shaping our future, but also sharing my passions. Along the way I met Tilly King, my best friend! Together we have developed our leadership skills, hosted community clean-ups and even a strike to advocate for climate justice! All of this comes down to Enviroschools allowing us to step up, share our passions and get involved in our communities. I've been fortunate enough to be selected to head away on a BLAKE Expedition to the Sub-Antarctic Islands. After my return I'll be heading over to Europe where I will travel for 4 months, support rangatahi in need and campaign for various political movements. When I return I will continue my conversation mahi at the Ōamaru Penguin Colony and then venture to Victoria University, where I will study a BA, Double Majoring in Political Science/International Relations and Public Policy with a minor in Economics or potentially Environmental Studies.
Ethan talks to incoming student leaders and the value of investment into the Enviroschools Programme.
Mady Rawson
Kia Ora everyone, my name is Mady Rawson and in 2022 I was the enviro club leader at Waitaki Girls' High School. Currently I am taking a gap year to decide which field of science I would like to go in to. The Enviroschools Programme was a very beneficial programme which made it clear to me that giving back to the environment was something I enjoyed doing. It inspired me to pursue this later in life and conserve our world and worship the ground we walk on.
I hope those who participate in the Enviroschools Programme in the future can attain the knowledge that I did. Being a participant in the Enviroschools Programme not only opened opportunities within my school but it did outside school as well. I was offered opportunities outside of school involving the marine studies centre which then resulted in my passion for the marine world. I hope the involvement of others in this programme drives them to look after their environment around them as we only have one and we need to look after it.
I hope to go into a field of marine conservation. The skills and ideas I learnt within the programme and the connections I made will stay with me throughout my life and will continue to drive my journey forward.
Mady shares her thoughts here.
"Environmental Education is an investment in our future. If New Zealand is to have a sustainable future, increased understanding of the environment and environmental decisions is essential." – Howard Fancy, Secretary Education in the Foreword for Environmental Education in New Zealand Schools MoE 1999.
At the same time that the resource quoted above was being drafted, the Enviroschools Programme was being trialed and developed. The three rangatahi from Waitaki District who we feature in this post were not yet born.
"Many people are rising to the challenge and replacing global gloom with creative thinking, innovation and environmental action. Knowledge, understanding and skills are increasingly being sought by communities, industry and governments as well as individuals. The Enviroschools Programme aims to equip all young people with the competencies they need to be leaders in sustainability and regeneration." – Enviroschools Handbook 2020 p 1