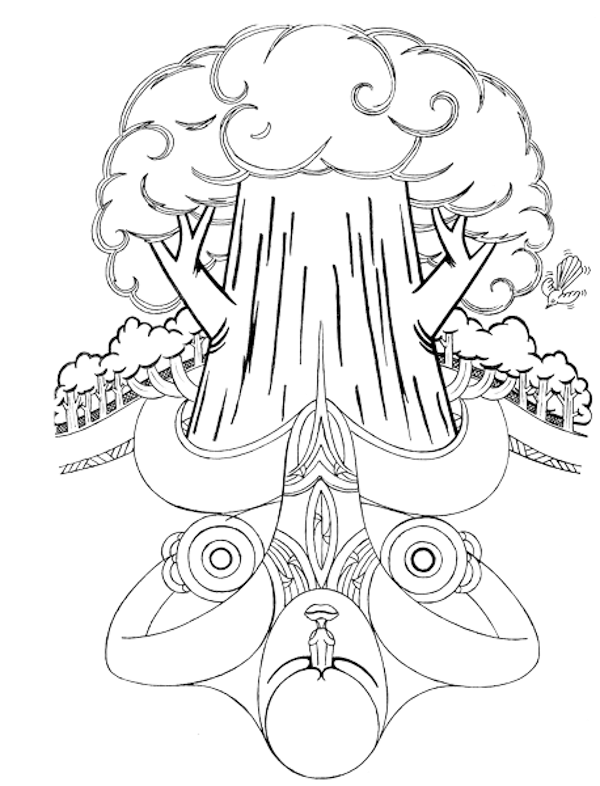 Tānemahuta: Atua associated with the forest and all that dwells in it, with qualities that include growth, strength, shelter, diversity of life.
Everyone's a Builder!
Not everyone has confidence in themselves as a "builder," but, as the team from Enviroschools Te Upoko o Te Ika a Māui found out on their Ecological Building Team Day in March 2022, there are myriad ways to experience this Enviroschools Theme Area and it's key concepts and great way  to get your head around it is to get hands-on.
The instructions for the team day were to choose an ecological building experience that would involve constructing something (of any size) using the ecological design principles from the revised Enviroschools Ecological Building Theme Area resource. This experience had a time allocation of 2 ½ hours.
To start with, each person familiarised themselves with the new theme area booklet then, over Zoom, team member Gill Stewart led them through one of the booklet's activities, Our experiences as builders (pg 39), where they delved into childhood memories and experiences of building as children. 
"It was such a fun and empowering activity," says Gill. "We talked about building dams in the river, corrals for pretend horses, making tents out of blankets and huts in the bush.
"I think that's an important part of the ecological building process – getting people in touch with the idea that we are actually all builders and can use what we already know to explore building in whatever form."
Next, everyone talked about what they had in mind for their building experience and then it was time to get hands-on with these individual projects: a gate, a hut, a sit spot, a fence and a pantry – five very different projects, all revealing different aspects of ecological building principles. Ready? Set? Build!
Letting nature be the guide
Te Whanganui-a-Tara Facilitator Arihia Latham-Coates wasn't quite sure how to start. She'd had a rushed morning where things had kept changing and she hadn't decided what she wanted to build on her own.
She knew she wanted to be in the ngahere, so she headed into the bush next to her house where she'd often built huts with her tamariki when they were younger.
"Initially it felt a bit strange to be in there without any kids and with the aim of building something," says Arihia. "So I took some time to play and explore. Then I saw this group of little trees. They kind of draped over each other, creating what was already a lovely space. So I just added to it – thatched a little roof and put my jumper on the ground and it felt just right. Then I sat and listened and meditated and it was a little shelter, just for that time."
"I felt grateful for that opportunity to be in nature – to be creating in nature and with nature," Arihia says. " I think I would've felt quite resistant if I'd had to follow a set of directives.
"It was the fluidity of building something, of responding to what was already there and to make something that was just for that moment which made it so lovely."
Arihia's dog Max wasn't much help with the building process itself, but also appeared to appreciate the little sit spot that Arihia had created.
An opportunity to play and explore
Michelle Ducat, who works with Enviroschools in Te Awakairangi ki Uta (the upper part of the Hutt Valley) began by spending time in the space where she planned to build her fence, noticing where the warmth and shadows were and how the wind moved through the garden.
 "It was a beautiful autumn day. It was really lovely to sit and notice where ngā atua were, just to get my head into it," says Michelle.
"These kinds of 'noticing' activities, where kids get to experience a space, can all add to that sense of wonder, and also tap into their knowledge about that place."
Using driftwood she had collected from Pito-one beach and tī kōuka leaves from her yard, Michelle played around with tying knots and lashing things together. Some knots worked and some didn't hold when she moved it. But she found it really valuable to try things out without worrying too much about the finished product.
"With these hands-on experiences, as a teacher, I have often wanted children to have a finished product and to experience success," says Michelle, "but perhaps the outcome isn't to have a 'thing.'"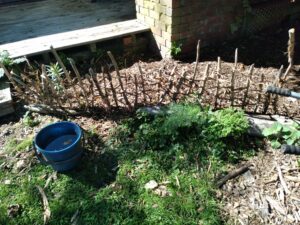 "Instead, it could be an understanding of the principles involved and using this knowledge to imagine how else things could be. Imagine the empowerment that comes from a group of kids letting their school's Board of Trustees know that they want them to think about things like shade, or insulation, or the end-life of materials when the Board makes decisions for their school's upkeep."
While Michelle's fence wasn't as effective as she'd hoped (her chooks are still happily raiding her vege patch) she says she really valued the ecological building experience. She liked having time to explore the ideas in a practical way of getting into the theme, and found it satisfying to create a structure from these beautiful materials.
Co-creation is the way to go
As every teacher knows, what you plan to do and how it all actually pans out, can be two quite different things – something team member Claire Reddish experienced.
"Building a hut in the bush as I'd planned sounded like such a lovely thing to do," says Claire. "But on the day, the kids weren't into it, to begin with. We headed off into the bush with some complaining and had a few false starts."
"Finding the right place was tricky," she says. "We weren't confident with finding a space that would work and we ended up choosing a place where the gap was too wide and we couldn't find long enough branches to stretch across, but that experience led us to recognise the right spot for another attempt, where a small grove of trees had grown closely together. It was a natural space that we could take advantage of," says Claire.
"That's one of the best things about building with natural resources – if what you're doing doesn't work particularly well, they can be returned to the earth."
As they built together, the children's mood lifted, and, for Claire, that outcome was just as valuable as the hut itself. "They really enjoyed it in the end," she says. "They calmed down just from being out in the bush and they enjoyed being in the space. And then they got all excited about building a hut on the trampoline at home."
So, on their way back, they picked up some fallen branches and propped them up around the trampoline at home. They draped blankets and sheets and made a snug little trampoline hut where they spent a relaxed afternoon playing, eating and re-designing. 
The family's experience beautifully demonstrated the concept from the theme area that ecological building is a co-creative process. "At the start, I was trying to be the one controlling the process," says Claire. "But when I let go of that, both in terms of the place and the result, we came up with something that really worked for all of us."
The joy of working with natural resources
Wairarapa Facilitator Gill Stewart got stuck into an unfinished project with her family. The foundations for the project had been laid when they first built their straw-bale, earth-plastered home 20 years ago.
"We had originally planned to build a mud-brick pantry and had put in a concrete base with steel reinforcing rods coming up out of the floor," says Gill, "but that was as far as we'd got, and gradually the space had just been filled up with all sorts of other things." 
So, on the Ecological Building day, the family worked together to make the pantry walls with a clay and straw mix. They made a 'pit' area outside where they mixed the barley straw and clay until the straw was well coated, then loaded it into a wheelbarrow. Once inside, they pressed the slurry into the space above the concrete around the steel rods. They used repurposed wooden "shutters" to form a type of wall to hold the straw in as it dries. When it eventually dries out it will be covered over with a layer of clay plaster.
"It was a real pleasure to be physically reminded of why we chose to work with these materials in the first place," says Gill. There's no nasty chemicals, you can just wash it off your hands and clothes, and it can all return to the earth with no damage done. And if it needs fixing, then you can just add on another layer."
Embracing art, science, communication and practical skills.
As a hands-on supporter of her local community garden, Regional Coordinator Karyn Burgess had been thinking for a while about building a gate as part of developing a new and inviting entrance to the garden. She wanted it to be something beautiful and to reuse materials. She'd collected some old pallets and some driftwood, but knew that putting this together was going to require a range of skills and disciplines.
Lacking in confidence and struggling to get started on the morning of the Ecological Building day, she issued an impromptu invitation to her neighbours to help build. It turned out that between them they had all the required skills. One of the women had pulled pallets apart as a job, and another had a flair for design. Between them, they dismantled the pallet, laid out the driftwood, then when it looked "just right – balanced but not symmetrical," they began to join it all together.
"We played with the idea of binding it all together with harakeke," says Karyn, "but without having tried this before we decided to save it for the next project and used screws for this one.
The binding idea spilled over into the making of putiputi to decorate it and we also added paua shells, and a gorgeous thing about this kind of process, is that others can keep adding to it. We've since taken the gate over to the community garden where local tamariki have adorned it with some plaited grass and a bunch of berries."
With the gate now ready to install at the garden, other community members are getting enthusiastic about creating a path to the entrance, a sign and noticeboard. 
"I have a tendency for lots of thinking without getting around to the doing," Karyn says. "Getting stuck into a project was really important for my motivation. It's built my confidence and piqued my interest. Now I can reflect and progress around the action learning cycle for my next project. I am looking forward to developing a whole lot more garden art and exploring ways to bind with natural materials rather than using nails and screws." 
Every one of the Enviroschools Te Upoko o Te Ika a Māui team approached their brief to construct something using ecological design principles and to interact with the new Ecological Building Theme Area quite differently, yet independently, and as a team, they came to a similar conclusion: Everybody can be a builder. They also discovered that there is value in taking time to explore and try things out rather than aiming for the perfectly finished project, and that working collaboratively can develop new avenues, build relationships and develop new possibilities. 
Ready? Set…