It's easy to take the simple act of turning on a light switch for granted. But when almost 50 students from a number of schools across Central Otago and the Queenstown Lakes District got involved in two hui (gatherings) hosted by the Otago Enviroschools facilitation team, they discovered that a lot more goes into turning on a light than meets the eye.
During one hui, students learned about solar and hydro power. They built solar ovens, discussed how to optimise energy from the sun, and cooked smores.
On the way to Clyde Dam, the group stopped at various locations to learn more about energy generation in New Zealand, particularly hydropower. The students had some great questions, including, "What happens to the fish", "How much concrete did it take to build the dam," and "Where does the electricity generated at the dam go how do they know where to send it?"
At Clyde Dam, the students discovered how much energy the country uses and where power generated at the dam goes. After donning high-viz vests, the students took a tour around the dam, even venturing right inside.
During the second hui, students visited Toitu Museum in Dunedin. The day started with a question: "What is energy and why is it important?" The students named the forms of energy they had used between waking up and leaving the house to go to school that morning. Their lists got very long very quickly once they realised that everything they do involves energy somehow.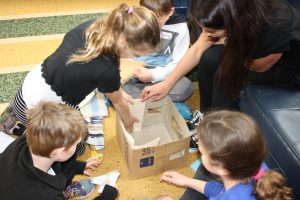 Students looked at different forms of transport that have been used since people arrived in the area too. They were challenged to think about the modes of transport they use and if there were more energy-efficient options.
They also looked at heat energy and insulation, an important issue for many Dunedin homes. Students were asked to create energy-efficient homes out of cardboard, plastic sheets, curtains, blankets, wool and foam insulation. Once they had insulated their houses, each group was given a heat pack to put inside, then an infrared camera was used to find out where the heat was leaking out of the house. Seeing where heat escaped was a real eye-opener for many students, and many learned that simply shutting curtains and doors can make a big difference to the amount energy they use.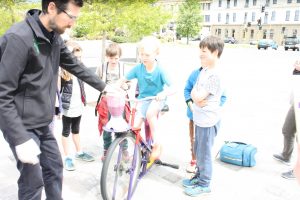 Finally, students made their own smoothies using a Smoothie Bike. Students were encouraged to peddle hard to drive the blender, which was a great way for them to understand just how much energy it takes to do something very simple.