When Paremata School held their Enviroschools Bronze/Manuka reflection process in November 2020, active travel stood out as a major aspect of their journey.  This was great news! With travel being a significant part of our carbon footprint and with active travel having a range of other bonuses, we are really keen for all Enviroschools in Te Upoko o te Ika a Māui to engage with travel as part of their sustainability journey.
Using the Active Travel Action resource
Paremata School worked with the Active Travel Action resource, which was developed in 2018 when Enviroschools Te Upoko o te Ika a Māui teamed up with the Greater Wellington Regional Council (GWRC) Travel Choice team to help school students and staff engage with their whānau on an investigation into their travel.
"How can we, as a school community, travel more sustainably to school?" 
The Active Travel Action resource has a particular focus on addressing climate change and Paremata School trialled it in 2019 with really positive results.
Exploring the neighbourhood
The students began by using the resource to explore their neighbourhood.  Their teacher, Jannien Kamphius, asked them what they saw when they were walking to school and helped them develop a connection to the nature that was around them.
"I know it would be much healthier if everyone walked to school,"   says a student.
Ms Kamphius believes that by walking to school and observing nature the students develop a sense that they need to look after it.
The students discovered, however, that many students were being driven to school because the road didn't feel safe for active travel. This led to the class coming up with a range of  suggestions for safety improvements outside the school, including a non-parking area.  They took their findings to the principal, Matua Bryce Coleman.
Empowered students take their ideas to council
Matua Bryce and the teachers supported the students to present their learnings and solutions in front of Porirua City Council (now familiar with submissions from young people).  This was an empowering process for students who met the councillors, learned the name of their mayor and received the help they needed and felt really proud.
"We felt passionate and nervous at the same time because the room was full of councillors, adults and even the Mayor Anita Baker." – student
"We did it! The Porirua council passed the recommendation. Everybody in our class and our community worked so hard to get to this result. Students' voices can be powerful." – student
"The principal tried to do this and he didn't succeed. Some board members, I think, tried to do this and they didn't succeed. But us children and Ms Kamphius succeeded." – student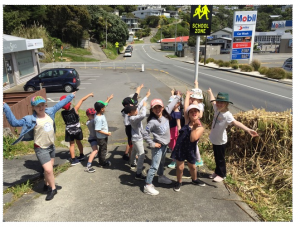 Paremata School became the first school in Porirua to have a smart road sign funded in partnership with Porirua City Council and Paremata Residents Association.
Part of a bigger movement
The school is an active participant in Movin'March,  a month-long event run by GWRC in partnership with local councils for primary schools in the Wellington region, so the students feel they are part of a big movement.  They also participate wherever they can in Enviroschools opportunities with other schools to reinforce the feeling of being part of something bigger.
Kirsty, the Travel Choice Coordinator from GWRC had the opportunity to work with Paremata School to make the video above to share the inspiration with others as we are doing here.  She was also part of the reflection team for Paremata School's Bronze/Manuka reflection in November 2020. She says:
"Being part of your Enviroschools Holistic Reflection Process recently gave me a real insight into how active travel can be truly integrated into the school and how important student agency is to keeping it alive." – Kirsty, Travel Choice Coordinator from GWRC
The Paremata School community continues to be strong advocates for active travel and take part in Movin'March every year.  In 2021, the school recorded a total of 2,564 walk or wheel trips, equating to a participation rate of nearly 7 trips per student – third overall in the Porirua area.
---
The content of the Active Travel Action resource was developed and coordinated by Enviroschools Facilitators Gill Stewart and Arihia Latham.  Gill collaborated with former Enviroschools teacher, Caragh Briggs, and Arihia providing a strong te ao Māori perspective throughout. GWRC's Travel Choice team provided design and research expertise and have helped fund Professional Development workshops for teachers wanting to implement the resource at their school.  Future funding is expected to continue to support schools interested in using the resource in ways which are tailored and responsive to their needs.
Jannien Kamphuis, Year 3 Teacher at Paremata School at the time, loved that she could "dive in and out" of the resource.
Principal, Bryce Coleman, commented on the engagement of the children through involvement in this real life learning and how it has also enhanced relationships between students and staff.