This is the third year we have run the Howick Schools Moth Plant Pod Competition. Moth plant, Araujia hortorum is a weed that the local Howick Board want to be rid of. One of Auckland's most noxious weeds, the plant is a woody vine that can grow up to eight meters high, has sticky white sap, smothers native vegetation and produces masses of seed pods which burst and scatter hundreds of more seeds. The wind spreads those seeds and so the invasion continues.
In 2018, seven secondary school teams registered for the competition, and 2063 moth plant pods were collected. In 2019 twenty secondary school teams registered and 9998 pods collected. In 2020 we opened the competition to Early Childhood Centres, Primary and Intermediate schools as well. We share this story with you to demonstrate how committed these students were to this Moth Plant Pod project that supports biosecurity in New Zealand.
In this first video Sunnyhills Primary School Eco Leaders  promote the Moth Plant Competition.
As we went into Covid-19 level four lockdown, we reluctantly contacted all participants to let them know we had to cancel the competition. Our weed swap, booked for 2 May, for students to take their pods and vines to dispose of safely and to receive a native plant instead was cancelled too as was the $4000.00 prize money pulled as it was needed by council for essential work.
Despite these challenges we wish to acknowledge the actions of these students and their whānau in 2020. These enthusiastic people undertook so much action in their neighbourhoods. We were impressed so many students from so many schools and early childhood centres wanted to get out and help Howick Local Ward become free of this invasive, strangling pest plant.
The total numbers of pods and students involved  we heard about when we contacted them following lockdown:
8355 Pods collected
15 vines uprooted (8 million potential plants!)
47 teams, 151 students
As far as we know Daniel was our youngest competitor to get the most pods. He and his team mate Roman worked collaboratively within their Sunnyhills School and wider learning community to share the message that biosecurity is the collective responsibility of all New Zealanders, as does the video they created with support of their teacher Christine Daniel.
"Daniel and I have been encouraged by all your kind words and acknowledgements and look forward to our next environmental challenge. It was such an awesome experience to explore our neighbouring parks and reserves, and helping our neighbour who was unwell to clear the Moth plants in his property while we were doing the competition." – excerpt of email from Yani, Daniel's mother.
Roman was set to get to 5000 pods by the end of the competition. He told us of sites he had seen that he was going to go to when lockdown was over. This family were heading for 10,000 pods and had reached over 3,000 in two weekends so were on track to get their total.
"We set a goal of getting 250 pods a week to achieve a total pod number of 2000 by the end of the comp. We were on track too until lockdown happened at the end of March. I did a rough count of the pods and roots collected and we had a little over 1000!!!" – excerpt of email from Roman's mother, Eleanor.
Roman and his family have also identified some plants in other areas and let the council know so that action can be taken.
Sunnyhills School students were engaged in a range of ways to learn about the significant threat of moth plants to the local biodiversity.
"It was indeed disappointing that the Moth Plant Competition was cancelled after so many Sunnyhills students had formed teams and begun collecting moth pods.  As always I'm bursting with pride for all the enthusiasm and action Sunnyhills students take for our environment." – Christine Daniel Education for Sustainability Teacher, Sunnyhills Primary School.
Sunnyhills students Rosie Y, Grace and Karol continued the creativity with their quest to raise awareness of moth plants, putting this animation 'Zero Moth Plants Tomorrow' together! With their teacher Dorothy's passion and willingness to learn alongside them, the students were highly motivated, often working before school, during morning tea, and wanted to stay after school.
Classmates Eric and Norman, with support from Baxter, Nicole and Mac, wanting to tell people how we got moth plant and how to remove it, produced this animation.
"There are huge lessons here for us all around how we facilitate learning and action. Student potential can be unlocked when we do friction free learning." – Cate Jessep, Sustainable Schools Advisor.
Christy from Sancta Maria College created a video that shares her family approach. It demonstrates how well she worked collaboratively within family, school and the community to share the message that biosecurity is the collective responsibility of all New Zealanders. More than that, it shows leadership in supporting others in their community towards protection of New Zealand's natural environment and native species.
Christy's dad took all their moth plant pods to their school property managers shed, where they were stored during lockdown. They sought information how they could get rid of them safely over lockdown as our weed bins did not come about.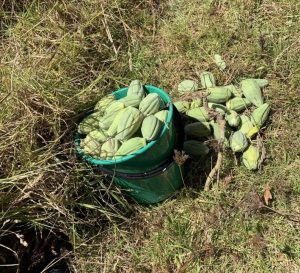 "Auckland is a special area and we have so many amazing native animals and plants living on our doorstep. These invasive species are a constant threat but with people like you as future custodians of our planet doing these actions really gives me confidence in our future and helps make the vision of Kiwis in our back yard a distinct possibility. For this I thank you." excerpt of letter from Ron Matthews, Team Manager: South Natural Environment Delivery – Auckland Council, sent to students.
Banner image: Daniel's collection of 1900 pods.