One of our Northland Kindergarten Association (NKA) Kaiako and Head Teachers, Karlene Nesbit from Selwyn Park Kindergarten (also a lead Enviroschools teacher) has written a pukapuka for tamariki.
"Ngā Taonga o Tatou Atua Wahine – The Treasures of our Female Gods" is a story about special gifts that we receive from the female goddesses through a te ao Māori lens.
Karlene had recognised that stories celebrating the female atua are few and far between in our current Early Childhood Education literature resources. So, she rose to the challenge and wrote a book herself, based on her research and understanding of some of the wahine atua.
"I used information that I got from my online research and from discussions at a wananga that I attended.  There were 52 Hine atua wahine that I found – and lots of the information was not appropriate for a children's story.  I also wanted to link my story to a waiata that I had been taught about the atua tane and have used the atua wahine as a second verse," said Karlene, about the development of the pukapuka.
Karlene explained that she found the story easy to write and most of it came in an afternoon when she was writing "haiku" in a te taiao zoom meeting. Karlene says that she had lots of great feedback from her kindergarten colleagues around the structure.
"I want to thank Kim as at times the information that I was reading was so overwhelming.  She advised me to keep it as simple as I could and to relate my story to the tamariki at our Kindergarten." – Karlene, talking about the support she received from Kim Townsend, Professional Practice Manager, NKA
Karlene's niece (and parent at Selwyn Park kindergarten), Miriama Rose Kaimarama illustrated it.
"My niece who did the illustrations for me used our discussion times to create the pictures that are seen in the book.  To be quite honest I never thought I would even finish this and my niece and I are both surprised and proud of ourselves for having completed this cool resource." – Karlene Nesbit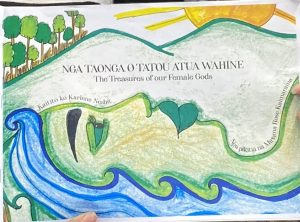 The printing of this beautiful pukapuka was made possible thanks to a Karahipi tahua o Dean Martin scholarship and the Northland Kindergarten Association Board of Trustees. The resulting pukapuka is an absolute taonga that is already being shared and loved amongst our kindergarten's and in a couple of our primary schools.
For a sense of how special this book is, I'm going to share a couple of excerpts for you to enjoy:
'Hine-moana is the atua wahine of the sea. She looks after all the tamariki of Tangaroa, the fish, kina, mussels, pipi and crayfish. Hine-moana calms the waters when they are stormy. Her gift to us is to take time to breathe and settle ourselves. Ko te hi! Ko te ha!
 Hine-teuira is our lightning wahine. She sits alongside her sisters Hine-kapua and Hine-ihorangi. She shows strength in all that she does and encourages us to do the same. When we are strong in our belief, the light and power to achieve a goal ignites within us and the world shines'
"As you can see, this book is an absolute treasure. Karlene has much to feel proud of, our NKA staff and board think she's amazing!" – Kim Townsend, Professional Practice Manager, NKA
Karlene said she wished she had more time carry out further research and to focus on stories from Te Taitokerau but hasn't had chance to do that….yet. Watch this space!
Next year more books will be printed, but for now if anyone is interested, they can request one through the NKA in the new year.