Over the last few years, at our small rural Kuranui Primary School in South Waikato, we have been growing and developing our school and community orchard. We have a diversity of trees to enable almost year-round access to fruit. The aim is for students to be able to pick and eat fresh fruit, as well as to learn about preserving surplus and utilising 'less than perfect' fruit for jams etc. Other surplus fruit will also be shared within the wider school community via our sharing table. This learning has been integrated into their learning curriculum.
As our trees have matured and started to fruit, students noticed we have a possum problem, and have been monitoring the issue through observing plant damage.
We realised that the possibility of possums also enjoying the fruits of our labour was extreme. We had seen evidence of a possum population on some of our trees (scratching and poo) and discussed how we could best control possums and other pests.
As the orchard is next to a riparian planted waterway with abundant native birdlife, and also because they do not wish for their orchard to be further damaged, the students decided they needed to take action to control pests.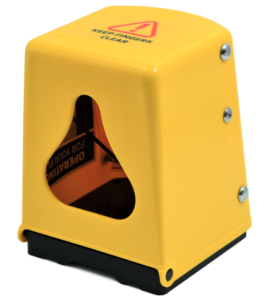 "We like how the students have identified an issue and have come up with a solution to reduce plant damage in their area."- Earthwise team
The children were focused on the most humane way of eradication and decided they did not want to use poison. We all agreed that traps were our best option to purchased 4 x Timms possum traps which the Earthwise Fund helped us with.
Then came the discussion of the most appropriate place for the traps to be set. Of course, with young children at school the traps would need to be outside of the actual school playground, but close enough so they can be checked daily.
We enlisted the help of a grandparent to place the traps where we had decided was the best place to catch possums, and safe for children. Although didn't initially catch anything, we knew they were still around because we identified signs of their existence (previously mentioned poos and scratching). We continued to monitor our traps and had success in late November. Students are now monitoring and managing the traps, including recording how many pest species have been caught. We are exploring options for recording the data publicly for example through Predator Free NZ.
We have been having deep in discussions regarding the best bait to use in our traps and what we should do with the possums when we catch them.
Thank you for funding our traps, Earthwise Action Fund! Our community orchard means a lot to the children, and they are incredibly proud to be a part of such a wonderful community incentive.