Last year two senior students from Whareorino School (near Awakino on the edge boundary of Waikato and Taranaki Regions) were involved in the creation of Bee-Utiful NZ. Their enquiry around bee health and bee friendly plants has revealed a lack of product labelling for bee friendly products. Indi Single and Zac Litten developed an initiative based on educating the public about ways in which they could help bees and encouraging businesses to consider more bee friendly labeling.
"Our poster we created encourages people to help our bees and lets them know of some things they can do to help. We want people to be Bee-Detectives and find ways they can help the bees themselves around their homes, schools and communities. It would be great for people to think about our bees and how they can help them. If everybody does a little bit for our bees it will make a huge difference." – Indi Single, Whareorino School student.
Zac and Indi have a vision that their work now be scaled up by other Enviroschool students around New Zealand. They created a poster, which was fully endorsed by Apiculture New Zealand and New Zealand Beekeepers Inc. They invite you to print copies of the Bee-Utiful NZ Poster 9.1 and visit your local nurseries and hardware stores to check on what is happening locally and ask to display these to promote bee friendly products. This is a great opportunity to spread the messages of Bee Aware month and to continue bee-friendly practices throughout the year.
"I'm impressed by their enthusiasm and research into this topic, and the great practical solutions they are advocating to help consumers become bee-friendly. Apiculture New Zealand is the industry's peak body representing beekeepers, packers and market organisations and some affiliate groups. We have a strong interest in promoting sustainable beekeeping and caring for our hard-working bees. Each September we co-ordinate a month-long educational campaign which promotes and celebrates our bees. We are grateful for all efforts to promote bee health and are excited that Zac and Indi are so committed to this project." – excerpt from a letter of endorsement from Karin Kos Chief Executive Apiculture New Zealand
"I am writing in support of Zac and Indi, students at Whareorino School. These two students bravely approached our organisation with some ideas and asking for improving New Zealand's bee population by promoting bee friendly plants. Also preventing unnecessary Bee deaths by better educating purchasers and users of horticultural chemicals/sprays." – excerpt from letter to Indi and Zac from Jane Lorimer, President, New Zealand Beekeeping Inc.
Ensuring a bee friendly environment will also benefit a range of native insects (as well as the exotic honey bee) within our healthy Living Landscapes. Check out What bug is that? for identification of bees and bugs in your backyard and the Enviroschools Living Landscape Theme Area Learning Guide for process and ideas for further learning and action.
"Bees are very important and their pollination is vital to our environment and food sources. They are also cute and very fuzzy little helpers. They work hard for us and we need to help them back." – Indi Single, Whareorino School student.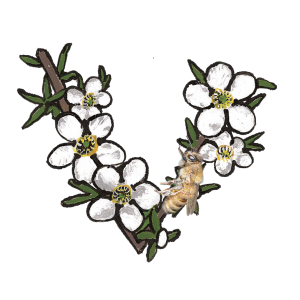 Above image: mānuka and honey bee
Banner image: honey bee on quince flower.