Wanaka Primary School celebrated becoming a Bronze Enviroschool this month and hosted the Minister of Conservation, Eugenie Sage, at their reflection! Robyn Zink, Regional Co-ordinator for Enviroschools Otago, shares the following story of Wanaka Primary School's student engagement at a ministerial level.
---
When Wanaka Primary students engaged in their year-long, whole school enquiry "Connect to my Place, Make a Difference in my Space", one of the junior classes engaged in a project on the tuna (eel) in Bullock Creek (their local awa) and Lake Wanaka.
They discovered that tuna grow really big in the creek and lake, but cannot return to the sea because of the dams on the Mata-Au (Clutha) river. The students decided they wanted to make a difference to their space by making the environment better for tuna to survive.
What next?
The students decided to write to Contact Energy (who manage the Roxburgh and Clyde dams) to find out what they were doing to help tuna. A representative from Contact Energy came to talk to the students, and they were impressed with what the students already knew!
The class learnt more about fish ladders and came up with their own designs for fish ladders so the tuna can go around the Dams. They used Tinkercad to design their fish ladders and built models out of recycled materials.

The students then wrote to Minister for Conservation Eugenie Sage with their concerns and solutions about the plight of the tuna, and asked her what she was going to do about this issue.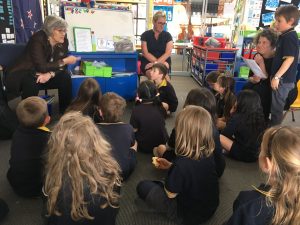 Eugenie was so impressed with these letters that she visited the school and spent some time finding out more about the project from the students. She also presented the envirogroup with the Bronze certificate at the whole school assembly, pretty cool!
Wanaka Primary then learnt that the Government has recently passed the Indigenous Freshwater Fish Bill which will help manage the threats to and protect all of our indigenous freshwater fish and the environments they live in.
The action taken by the students with the letters they wrote to Eugenie has led to further positive steps being taken at a very high level. Eugenie has since met with Contact Energy to find out more about what Contact are doing to protect the tuna population.
During their Reflection assembly, Eugenie emphasised to the students that adults will often take more notice of what children have to say than they do of adults. She encouraged them to keep writing letters and making their voices heard.
It was fantastic to see her taking the students' concerns so seriously – and fantastic to see student-centred learning in action in such a positive way.
Over lunch, Eugenie asked Wendy Banford (Principal of Wanaka Primary School) what difference being an Enviroschool made to them. Wendy said that Enviroschools provided a really strong framework to enable them to focus on sustainability.
Wendy spoke very positively about Enviroschools and the support Wanaka Primary gets from the programme. It was lovely to hear such a positive response (and it is similar to the feedback from many principals at the Principals' Breakfasts we have hosted).
Wanaka Primary School continues to focus on connecting to their place, to make a difference in their space. The flow-on effect from the action these students have taken will have positive repercussions for their school, local community, awa, lake, and even waterways further afield.
It will be interesting to see which issues capture their imagination next. and what action they will take to make a difference in their local environment. Whichever project they tackle next, we know they will give it their all and develop further opportunities that support a sustainable future.