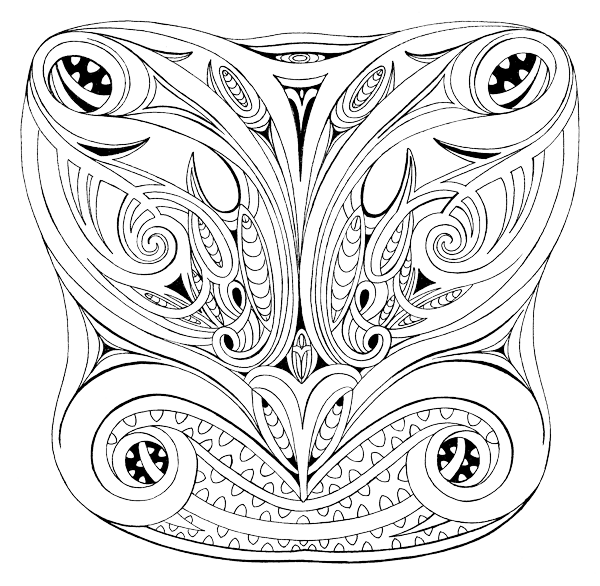 Hinemoana - atua wahine of the ocean.
Long Bay College Ecolution members recently took part in an Enviroschools Holistic Reflection with support from a representative from Auckland Council Sustainable Schools team, and feel proud of achieving Enviroschools Bronze status. It was a chance to celebrate progress to date and to inform next steps on the College's sustainability journey. As part of their reflective process they put together a video to share ideas and further engage their student community. Ecolution is a student-led initiative focused on advocacy for sustainability through action.
Like in many Enviroschools around the country, young people at Long Bay college are concerned about the waste being generated at their school. In February 2020, a 3-bin system was introduced to minimize landfill contribution. However, it hasn't been fully embraced by students, the group frustratingly report, with discussions around how best to address this.
In 2018 the students visited Long Bay Primary School to share their knowledge about sustainability, leading a fun series of educational games with the children. They have also visited Western Springs College, investigating their bin systems and other sustainability successes to help kickstart their group.
Over the last 18 months water conservation has been a significant concern for the whole of Auckland Region. Long Bay Ecolution group are contributing to water conservation by installing a water tank to collect rainwater for the various gardens on campus.
Ecolution have also been involved in the last two Long Bay Regional Park tree planting days with Sustainable Coastlines, as well as a beach cleanup – prompting the group to consider regular beach cleanups after school.
Litter is a big issue at their school. A significant contributor is the tuck shop, a popular lunch option with excessive plastic packaging on items. Ecolution students approached the tuck shop, resulting in PLA bioplastic containers and paper bags being introduced instead of single use plastic bags when possible. This has helped reduce litter in general as more could be composted.
Valentine's day in any secondary school can be met with a level of hype and expectation and in the past also involved a lot of plastic (the red roses came in plastic sheaths). The students in Ecolution addressed this by advocating that wrappers were brown paper, and bows were hemp string – a much more attractive gift and a significant reduction in waste. This has been embraced with open arms by staff and students.
The sustainable action within Long Bay College is all student-led. They run the groups, advocate for involvement, organise events, seek funding, and liaise with different people to get traction.
"I feel more confident to speak and have become more passionate about sustainability." – Holly
One of the frustrations of being part of the Ecolution group is that these students are not recognised in the same way as other school leaders. It is also difficult to get their voices heard and get change across the whole school happening. Even the label "Sustainability" seems to be pejorative.
"Sustainability is more than litter – it is about maintaining relationships, standing up for what you believe in, and caring for others. But because of negative association with litter and detention, it is difficult to get students on board." – Mikayla
They suggest there could be different approaches to this – rebranding Ecolution as a 'sustainability council' which represent the whole school, and having an action-based group involved in physical things such as the upcoming regenerative garden or tree planting.
There was further discussion about this regenerative garden as it presents the group with the opportunity to engage younger students transitioning from Northcross Intermediate (an Enviroschool) – who have many opportunities through their biotech curriculum where students are learning in about and for their environment. The garden could become a catalyst for tapping into this knowledge and continuing to hold the interest of these students in sustainable learning and action. It could also provide further opportunities for learning more about atua Māori and tikanga in relation to care and nurture of soil, maara kai and people.
"We want to develop a culture of care in our school, so the garden is a perfect opportunity to begin normalizing sustainability in and out of the classroom."- Mikayla
Our whole school vision for sustainability is to be an environmentally innovative and aware school and be leaders within the community. We want to create positive change within the school to develop an eco-conscious community by leading a shift in school culture, normalizing sustainability holistically.
This articulate group of students suggest that if other secondary students want to become involved in student advocacy and action for the environment, they should start small and work as a group to achieve things. Find a teacher that is passionate and willing to support you on your journey. Give things a go – mistakes will be made, but it is part of the learning experience. Laying foundations (goals, intentions, etc) before embarking on big projects is very effective.
Banner image: Long Bay College Ecolution members planting trees at the local regional park.
The Ecolution video below is an invitation to be a part of the Long Bay College Enviroschools Bronze Reflection Day they recently held. The video explains what Enviroschools is and outlines a set of expectations for Long Bay College as a school, to meet.