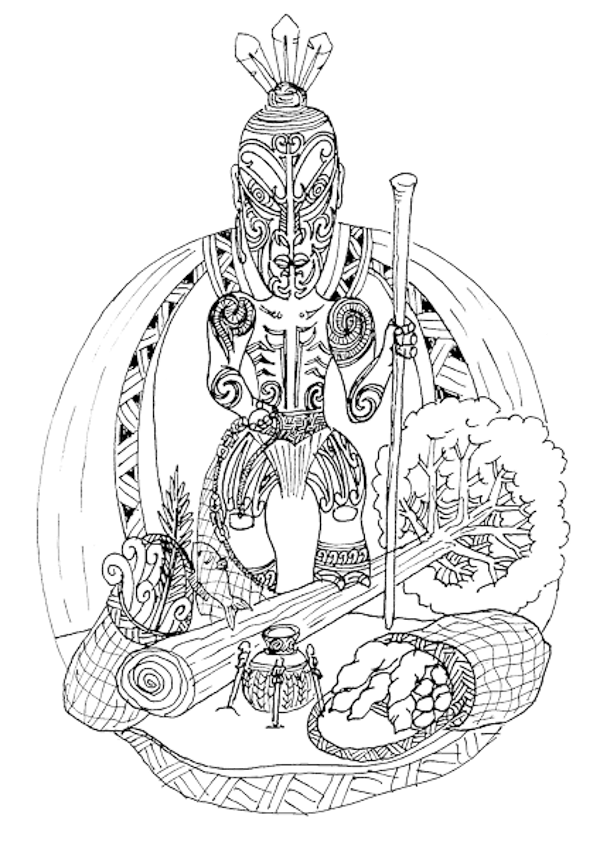 Tūmatauenga: Atua associated with strategy, determination, conflict and confrontation, having qualities of focus, perseverance steadfastness and endurance.
Ben Carson is a recent graduate of Kāpiti College. He was an active participant in the Enviroschools Network through the college's Eco Action Group. To him, student empowerment means recognising and realising our capability to create change. He says that the Eco Action Group and Enviroschools helped him make the shift from being interested to being a changemaker.
We interviewed Ben to find out about his experiences in the Eco Action Group and Enviroschools and how these helped shape what he is doing now.
What are you doing now Ben?
I am studying toward a Bachelor of Science, majoring in Ecology and Zoology, at the University of Otago. I'm loving the course so far and I'm excited to see where it leads! I'm also enjoying getting involved with community groups around Dunedin.
I hope that, through my course, I'll gain the knowledge and skills to help advance understanding of the natural world and solve environmental issues. Wherever this path takes me I want to effectively communicate and engage with people for positive environmental, social, and cultural outcomes.
When did you become interested in environmental issues?
I've been passionate about the natural world since primary school at Paremata, an Enviroschool. My teacher, Rachel Hall, took a "Science Extension" group where I first became concerned with environmental issues and became fascinated with native bird and plant life. We designed a board game promoting conservation and established a lizard garden. By the age of seven, I wanted to become an ornithologist or biodiversity ranger!
What was the role of Kāpiti College's Eco Action Group in shaping who you are today?
I joined Eco Action as someone already deeply interested and concerned about the environment, but with little experience in creating environmental change.
I guess I'm not naturally outgoing and didn't consider myself capable of environmental leadership, but Eco Action has shown me how, through community involvement, activism and teamwork, I can help inspire others and achieve positive change. – Ben Carson
What were some of the early projects you were involved in?
My Eco Action journey started in 2017 with beach cleanups, tree plantings and paper recycling – really great ways to contribute as a junior student. I was heavily inspired by older student leaders and developed an interest in water quality and climate issues because of these early projects.
What have been some of the most rewarding aspects of your years in the Eco Action Group?
There are so many! Eco Action allows for everyone to feel empowered, through tangible actions such as planting and recycling, or campaigning on important issues.
I absolutely loved tackling restoration work in the community with groups such as Ngā Uruora Kāpiti and Guardians of Whareroa Farm. The smiles and stories shared during planting events, as well as the satisfaction of contributing to something bigger than yourself, make them a huge highlight.
Practical work gives me more hope for the future and combats some environmental anxiety! – Ben Carson
Another highlight was presenting our journey to groups from other schools and to one of my heroes, Dr. Jane Goodall, in 2019. I loved helping with Experiencing Marine Reserves and I also got to assist with an Enviroschools Outdoor Classroom event at Kaitawa Reserve.  I was really pleased to see the junior school curriculum undergo changes to emphasise sustainability and climate issues.
A key focus of Eco Action, when I was part of the group, was climate action. Many of us helped organise School Strike events in Wellington and Kāpiti and our school supported everyone who wished to strike and drive political change. I'm so grateful to have been part of a school with student empowerment at its core, from senior management to groups such as Eco Action.
In 2019, we helped local group 'Low Carbon Kāpiti' in their campaign for Kāpiti Coast District Council to declare a climate emergency and pledge carbon neutrality by 2025. We collected petition signatures in the early hours of the morning and spoke during a council meeting. Many of us "found our voice" in that moment. It was extremely empowering to see these targets set by the council, however, so much work still needs to take place in this area for meaningful change.
You were part of the reflection team when Kāpiti College explored their fit with the Enviroschools Silver/Ponga paragraph.  What was this like and how did it empower the group?
The Enviroschools Holistic Reflection was so valuable. All of the mahi on our sustainability up until that time was celebrated. We also identified next steps and areas that we felt we could improve on in the future, readying us to embark on the next stage of our journey.
We could also see the Enviroschools principles demonstrated throughout the school, with strong roots in te ao Māori. These are exemplified in the development of the Parihaka mai ai values, an increased focus on sustainability and environmental issues beyond the Eco Action group and into the curriculum at all year levels.
What are your hopes for future Kāpiti College students and what advice would you give them?
I hope that future students of Kāpiti College understand how powerful they are in the world. There are so many opportunities available at Kāpiti College and so many staff willing to invest their time and energy into making sure that every single student gets the most out of their experience.
My advice would be to follow whatever is interesting, challenging or important to them. The fulfillment they can experience is unparalleled. My time at Kāpiti College was formative and rewarding, and I'm so grateful for those five years!
Supportive people and processes
Kāpiti College's Eco Action group emerged from a "Green Connection" group set up by a teacher in the 2000s. That initial work with the students really inspired the current teacher, Nicola Easthope, to continue and extend it through a new group.
"Each group of leaders has left a legacy for the next group to build upon and strengthen, and I can't say enough about the energy and inspiration of teacher, Nicola Easthope." – Ben Carson
The group has grown in numbers particularly since the School Strikes 4 Climate movement where Eco Action members took their leadership and organising skills beyond school to the community and national level.
Emerging from the college embedding the Parihaka values, there is now a growing awareness and understanding of the social justice and Māori land and water rights issues that underpin environmental issues in Aotearoa New Zealand.
"Ben is a great example of a student who rediscovered a childhood passion through his dedicated involvement in the Eco Action Group and Enviroschools network. His extracurricular contributions have powerfully shaped his choices in tertiary studies and his future career in the conservation of Aotearoa's wild places." Nicola Easthope, Teacher, Kāpiti College
Nicola in turn values the awhi and aroha of the enthusiastic, generous and committed Enviroschools Facilitator, Amanda.  Amanda has helped connect the Eco Action group with a wide range of opportunities outside the school, often involving the tauira presenting to kaiako. This is revitalising!