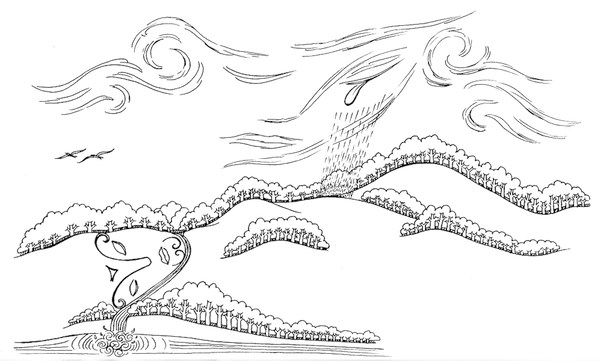 Ranginui raua ko Papatūānuku
Whareama School embarks on a water security exploration as a local irrigation dam is developed.
"It's right here. It's relevant to all of us. And if you're looking at local curriculum, then you can't get more local than something that's happening right across the road!"
Whareama teacher, Dianne Christenson, waves a hand in the direction of the massive earthworks taking place on the farm across from the school. There, students have been experiencing, first hand, the process of constructing a large irrigation dam which will also include wetlands, a wildlife reserve and a community area.
Farmer Len French is bringing the local students along for the learning journey as he addresses water security for future generations on his drought-prone farm.
"Whareama School is very lucky to have teachers that like to provide their students with a very balanced hands-on learning experience, giving them a better understanding of the challenges that our country is facing today and into the future.' – Len French, local farmer land-owner
Dam a great opportunity to dig deeper into water
Whareama School, a Silver Enviroschool, is a water-savvy school. They collect rainwater for their school gardens. They've taken water samples and done eDNA testing in the nearby Whareama River. Their school toilets are flushed with dam water, not clean drinking water. Many of the staff and students live rurally so they're aware of the impacts that water has on their lives and that their lives have on the water.
Empowered Students, Sustainable Communities
"The theme 'Wai Wai Wai' has been a major focus over the past few years," says Principal, Darren Kerr. "The kids have looked at many aspects of water, mostly from a sustainability angle, so when Len French approached us in 2020 with the idea of involving the students in this large-scale water project, we recognised it as a great chance to take that learning further."
"Mr French explained that the dam was going to cover up a small wetland," says Year 6 student, Hunter Meads. "He told us that he was going to build a new wetlands area above the dam. He said we could help him do that."
One month later, Len took the students for a walk over the area and helped them to visualise how the dam might look.  Len had learned a lot about the role of wetlands during the resource consent process and he shared with the students his knowledge of how wetlands trap sediment and soils, filter out nutrients and remove contaminants.
Then, in September 2021, the students took part in the first planting day. "The students found out about how different plants are needed for different spaces, and then they learned the skills of how to plant and maintain them," says Gill Stewart from Enviroschools. "There was science-learning about systems, and new skills were developed and applied. There was learning about how the water cycle works, how wetlands are important and why we need to think carefully about how we store water."
Authentic connections with community and local places
The dam, 'Lake Braemore', is a water resilience project. It will collect rainwater and run-off from the hills during the winter, and be used for irrigation on the farm's flats during the dry summers. Two smaller dams above it will filter and slow the flow of water, and it's here that the wetland and wildlife areas are to be created. And there's room for community too.
"Mr French is building a place where people can come and visit," says Hunter. "He's going to make it so we can go kayaking there and maybe camping."
The wider school community is taking a keen interest in the project, and the school's parent community didn't need any convincing to have their kids involved. In its years as an Enviroschool, Whareama parents have seen the enormous value of their kids learning in and about their environment. Some school families are involved in the dam project directly, and others indirectly, such as helping out on planting day.
"Planting day was such an awesome day," says teacher, Dianne. "The kids got muddy as heck, lost their gumboots and found them again, and planted hundreds and hundreds of trees." Len French's family were there, along with members of Forest and Bird, parents and Enviroschools facilitator, Gill Stewart.
Project catalyses community discussions beyond the school gate
The students went back after planting day and helped to put up plant protectors. Since then, they've returned a number of times to do "walkovers" – to check their plantings and watch as the area is developed. "These walkovers have prompted some fantastic discussions and debates about how we use water, and how we need to both use it and protect it, especially in a rural context," Dianne says. "We know that the kids are going home and talking to their parents about what they're finding out, and we know that there are family discussions going on about water sustainability as a result."
The connections made will continue into the future
While keeping an eye on progress at the site, the school has tapped in to other "wai-based" opportunities and organisations such as Mountains to Sea and The Whitebait Connection. This has enabled the students to dig deeper into aspects of water and engage them in hands-on learning.
"It's a stereotype about rural schools – that we're always outside getting muddy and stuff like that," says Year 7 student, Josh Fairbrother. "But we've been able to do that with the wetlands project and the other water investigations. It's been good to do school stuff like this but outside, learning in nature."
The students have enjoyed the chance to look at something so vital as water in such a variety of contexts, and over a sustained period of time.
"If you just do something once and then leave," says Josh, 'it's fun, but you just forget about it. But if you keep going back, then it's a really cool experience and you remember what it's all about because it keeps on happening. We can come back with others one day and show them why we planted the trees."

---
Len French: A Farmer's View
"With the school having a very practical and hands-on approach to education, I thought they would be keen to be involved.  With a lot of the concern around the effects that farming is having on the environment, it's become apparent to me that lack of knowledge at all levels is the biggest problem. 
Having learned a huge amount myself in recent years as well as learning from the experts, I'm now keen to pass that on. The next generation is the most obvious place to start. I am also keen to demonstrate that farming and sustainable environmental practices can be combined to give very favourable outcomes all round. 
Whareama School is very lucky to have teachers that like to provide their students with a very balanced hands-on learning experience, giving them a better understanding than most of the challenges that our country is facing today and into the future."