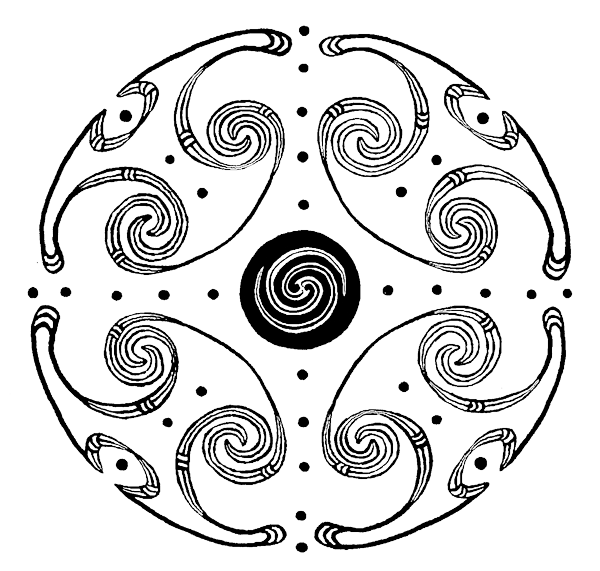 Urutengangana - Qualities of guidance, safety, leadership.
Enviroschools facilitator Hannah Sim shares her experiences working with this Stewart Island/Rakiura school.
---
It's not every evening that I get to experience kiwi in the wild, and this was an even more exciting opportunity because we were there as guests of Halfmoon Bay (HMB) School and their community.
We left from Oban at 6pm for the trip out to The Neck at Little Glory Cove Scenic Reserve. Our student guides, full of information about kiwi, led us on a well-formed track across the peninsula, through spectacular coastal forest to a secluded sandy beach for 45 minutes.
As dusk set in and daylight diminished, we ventured by torchlight through the native forest with the stars and forest night sounds.  The students were super quiet as we were listening for sounds of the Southern brown kiwi (Rakiura Tokoeka).  We heard at least one female kiwi, yay! But the students also saw a possum and a rat which they were not happy about.  This wide sandy beach is where kiwi are often found feeding among the grasses and seaweed, but this time having a first-hand peek at one wasn't to be.
We were lucky enough to see the Southern Cross and Milky Way (Stewart Island is campaigning to become a dark sky sanctuary). One student also spotted a satellite in the sky and a fishing boat off into the horizon – we knew we were in a special place. We then headed back to the catamaran where we were treated to a hot chocolate and a debrief of our experience.
This was an amazing way to be introduced to the learning that takes place in and around HMB School. The students were full of knowledge of local kiwi ecology, highlighting the importance of making Stewart Island predator free by 2050. The students were picked up at 10pm and we headed to our hotel for some rest and to recharge for our big reflection day.
We arrived at the school the following morning to join the students in their Bush School/Te Kura o te Ngahere for the day. They have been working in an area of Oban that was gifted to the school by their principal, and were preparing to officially open the Bush School later on that day with the community who helped to build the hut and storage area for their school bags.
Throughout the morning we heard from students in different years, who shared their stories and their Enviroschools journey.
The year 5's told us of the creation of the Bush School and why it is important to them. They head to Bush School every Friday and have enjoyed designing and building huts, shelter, rope courses and building a fire. They were all looking forward to November, when they will be spending a night up at the school.
The hut/shelter was built by members of the community and painted by the students themselves. They added their names and a puzzle piece each representing each of them. The community is very involved in the school; they work with DoC and Stewart Island/Rakiura Community Environment Trust (SIRCET) teachers from other schools who come to the island with their own students. I was there earlier this year, and the difference between the two terms (term 2 and term 3) was immense.
They have designed their very own shelter and tracks, which engaged their learning and further exploration. The depth of their understanding was evident, and they were eager to  show this off to their friends, family and community. The senior and junior school alternate using the shelter each Friday, and no Friday is the same (except for the tracking and trapping). They work on what they have done from their school week and continue on projects that are to be implemented.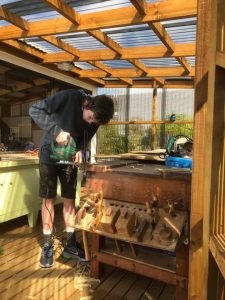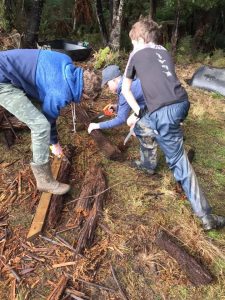 We are building a shelter for Bush School/ Te Kura o Ngahere. Mr Murray from Limehills is teaching us all sorts of building skills! – Year 5 students.
 "A new adventure; lots of perseverance needed, great teamwork and these awesome kids are always remembering to show respect for the equipment and machinery" – Hannah Sim.
Students have a deep connection to the land. We heard stories of annual month-long Mutton bird harvesting on the Titi islands (and learnt catching techniques and tikanga), kiwi in backyards, seals on the beach, deer in the street and history of the land are shared with visitors.
The senior students talked about camps they are lucky enough to be a part of joining: Whalers Bay, Masons Bay, Port William, Leah Bay, Camp Columba and Bravo Camp, and Wellington! They were all proud to speak about their home, how lucky they are to spend time around the island and exploring their own local history, and exploring their own backyard. This is something that not all New Zealanders can relate too. The students go on these trips with local community members and have the benefit of expertise of DOC and SIRCET.
The senior students told us about becoming Stewart Island Ambassadors. This is a project where throughout the year 8's take students from five or six schools from around New Zealand to Ulva Island, a sanctuary and predator free island. These year 8 students will go out with their visitors by themselves and share their knowledge of the island with their fellow peers.
The students feel empowered and love to share their knowledge and pass on their understandings of how sustainability can be managed and how aspects of Ulva Island can be taken back to their own schools.
After our kōrero with the senior students, the junior school students shared their journey about becoming a plastic free school. They have started a trial with Fonterra's milk for schools, where they no longer get the plastic straws and milk pouches. They have moved to using 1 litre containers that can be recycled, and the milk is drunk from a cup so the cup can be washed and re used time and time again.
The students of Halfmoon Bay School also participate in beach clean ups and they have been frustrated with the number of smoke butts and plastic "disposable" raincoats being used. Student have written to the owners of local travel businesses to ask for more bins to be made available.
They have also helped to implement boomerang bags at their local supermarket, reusable coffee cups and tying this into making their local community a more sustainable one. Which is of huge importance when you live on a small island!
Our learning and admiration continued as we heard about the students' involvement in rat trapping projects all across the island. They have been working with DoC and SIRCET for this project in their school grounds, Bush School and other local areas around the island to manage the pest problem; they have caught 168 rats this year! The students make sure to check the traps when they are up at Bush School every week. With such a high catch rate, they are now looking at increasing their trap numbers, and how they can share their knowledge with other schools in Southland to help other schools' projects take off.
This visit to HMB school included the official opening of the Bush School, and we were privileged to receive the school haka and waiata. HMB also shared the information about their Doc Conservation Week project to the public, as well as the awards they received from the Southland Science and Technology Fair with the theme of sustainability and the environment.
This term the year 3-8 have had 2 Bush Schools. We had a heap of fun and were using our school values of Perseverance, Adventure, Respect and Teamwork. We had a fashion parade, whittled, used flint and stone, cooked on the fire, built huts, went for walks, played games, used all of the rope course and much more! We even made the most of the rain and played in the grass puddles on the way home!
The last item on the agenda was for Halfmoon Bay students to share and reflect on their Enviroschools journey. Much of their work has been based on their own stories and ideas, and the Enviroschools kaupapa runs side by side with their own values of perseverance, adventure, respect and teamwork. They have a school waka in their classroom and the Enviroschools values are shown side by side.
You can tell that the students at Halfmoon Bay are proud of their school and their island. They are looking at implementing more sustainable practices in and around their school as well as sharing their vision of a sustainable community and educating the community and tourists.
 "In Term 2 we had four Bush School sessions. We used a compass and GPS, used the Find-a-Pest app, we had a bush cooking competition (Master Chef) and then we did a crime scene investigation with the local policewoman. Each Bush School session we use our school values. These are Perseverance, Adventure, Respect and Teamwork. We do an activity led by the teacher or a special guest. When the activity is finished we build our huts, play games, climb on the rope courses, slide down the mud slide, go on walks, cut, nail, saw and just enjoy the outdoors and the creatures." Moby, Shay and Charlie – Students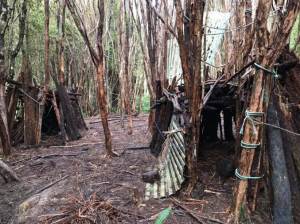 Banner caption: Halfmoon Bay students learn about predator control. Here Fionn resets a trap at Little Glory.