Sally Carson, Director of the Marine Metre Squared (Mm2) project, shared her passion and expertise for the marine environment through facilitated workshops in Porirua and Kāpiti. Teachers, students, and community group representatives were invited to participate in the workshops, which involved plenty of hands-on exploring to gather data in the local marine environment and load into the Mm2 database.
"The workshops provided a fantastic Professional Development opportunity for local teachers wanting to support their students with ongoing opportunities to explore our local marine environment in an authentic and meaningful context. The simple tools required and the educational resources provided to facilitate participation in this project make it easy to get involved" – Amanda Dobson, Facilitator.
The workshops were supported by various local environmental educators including Enviroschools, DoC, Guardians of Kāpiti Marine Reserve, Mountains to Sea and Porirua Harbour Trust.
Sally is the co-author of a recent publication The Collins Field Guide to the NZ Seashore, full of wonderful photographs and information about the habitat and behaviour of New Zealand's intertidal plants and animals.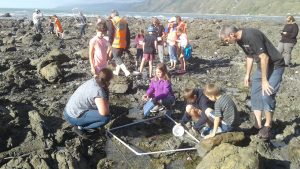 Enviroschools Facilitator Amanda Dobson said, "Sally is a fabulous presenter, who shares her passion for and expertise of the marine environment in a really inspiring and motivating way. Because of the high value of this project, we are keen to invite Sally back to our region to provide further professional development for our local teachers and students".
Paraparaumu Beach School benefited from Sally running 'Science Skills for Mm2' workshops with six of the school's classes in support of their current Te Moana Inquiry.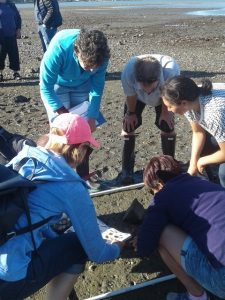 "We feel very fortunate to have had this opportunity which tied in perfectly with our Te Moana unit. It was great to see all the students totally engaged and they all thoroughly enjoyed the hands-on activities. They are still talking about what they learnt! The resources provided will also really support our upcoming field trip to the rocky shore. It was fantastic to tap into Sally's vast expertise in marine biology in such a fun and interactive way. Thank you!" – Shelley Evans, teacher at Paraparaumu Beach School.
"I am super excited to go on the trip to Pukerua Bay next week. I have learnt a lot this term. I loved looking at the different crab skins and then trying to guess what one was the female and which one was the male. Our whole class loved the Mm2 station and learnt a lot. Now I am in love with the ocean!" – Sarah S, student at Paraparaumu Beach School.
"I liked it when we went down to the rock pools now that was cool. We saw creatures that I had no idea about like an anemone. Thank you for that awesome privilege of letting us go to the workshop and coming to our school to do those awesome activities" – Tristan C, student at Paraparaumu Beach School.
---
Marine Metre Squared is a nationwide citizen science project that supports and involves communities in the monitoring of their local seashore.The project has been designed to provide meaningful, valid environmental baseline data on the state of seashores around New Zealand. It will enable not only taking a snapshot of seashore biodiversity, but will form a baseline against which future change may be measured.
The aims of the Marine Metre Squared project are for participants to:
Learn more about the animals and plants that live between the tides around New Zealand
Collect valuable scientific information that will help build a picture of the biodiversity, distribution and abundance of seashore animals and plants in New Zealand's marine environment
Monitor change in this habitat over time and investigate what might be causing the change
Make connections between scientists, educators, schools and community/Iwi groups who care about their local seashore environment and want to look after it.
Marine Metre Squared is an easy way for anyone to survey the plants and animals living on their local seashore. The NZ Marine Studies Centre, University of Otago, is encouraging everyone to participate in long term monitoring of their marine environment – the Marine Metre Squared. Anyone can take part – individuals, families, schools and community groups. More information can be found at www.mm2.net.nz