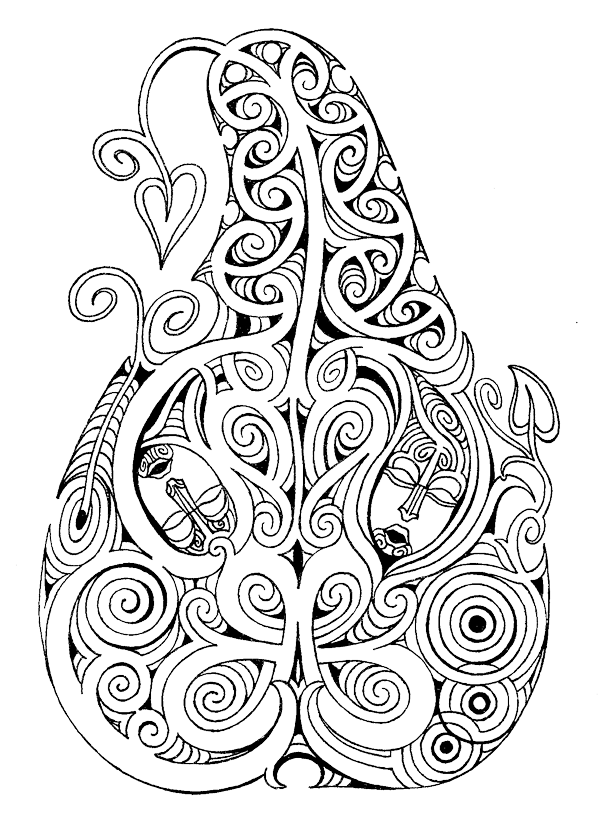 Hine Pūtehue shows qualities of the gourd; restoring peace, calm and healing, with soothing tones and musical qualities.
Havelock North Central Kindergarten have an area reserved at their Kindergarten they call 'OOOOBY' – Out Of Our Own Backyard.
---
"It's a bit like the rhythm of life, some days there is nothing, and on other days it is overflowing. It expresses the current season and what is locally grown in our gardens here," Frances explains.
The 'OOOOBY' (Out Of Our Own Backyard) area is filled with surplus from whānau, the kindergarten garden and the community. Children/ tamariki, friends and family are invited to take and share from it. At different times of year you might find a range of produce – apples (from whānau who work in orchards), to seeds, relish, jams (made from seasonal fruit), spinach, celery, seedlings, flowers, and even worm casings/tea from the kindergarten worm farm.
Tamariki know they can bring things from home to share and also take what is there. It can lead to some rich conversations when tamariki share stories about surplus at home or from what Granny is growing. Discussions might also be prompted by what tamariki are eating from their lunch boxes and how these things are grown or made.
Having a large kindergarten outdoor space designed with a variety of areas allows us to weave Māori perspectives into our day to day practices. Children spend their day playing in nature. There is a wild and uncultivated area (like the dispositions of Haumietiketike). We have garden beds for growing veggies as well as citrus, berries and herb patches (like the cultivation qualities of Rongomātāne). We are always experimenting to find out what works best – all part of the learning. Tamariki know, through these experiences, to take care of Papatūānuku.
Three years ago we were given hue (gourd) seedlings. These have been a real success and we are now on our third year of growing, planting, collecting seeds, and sharing. The tamariki help harvest and dry the seeds so they develop an understanding of seed-saving as well as a sense of empowerment and kaitiakitanga.
Children from Havelock North Primary School recently visited us to gift some seedlings they had sprouted as part of their own Enviroschools experience. These were planted at our kindergarten and tamariki watched these with excitement as they grew. Members from the community have also donated avocado stones, sunflower seeds and choko plants.
These variety of produce from our gardens adds to the success of the OOOOBY pātaka. Being small, manageable and at the sign-in desk, families see it every day. It is in a lovely basket or wrapped, often with personal notes about where it is from. Each contribution has a story. Tamariki love to take a little something special, and or to bring something to share. It's not something in addition to what children do in their play. It is part of their play and their daily life at Havelock North Central Kindergarten.
---
Sustainable Communities through Kai
The Sustainable Communities through Kai project started out as a trial in the Waikato and Auckland regions. Sustainable Communities through Kai weaves the kaupapa and five Guiding Principles of Enviroschools together and connects strongly with the theme areas, particularly Living Landscapes.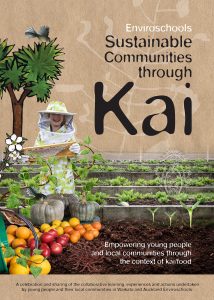 In this facilitated project there was a focus on bringing groups of people together to explore what sustainable communities through the context of kai could be, and begin to take collective action. We look at strengthening connections with the land that nurtures us, and the people that collectively contribute to food supply and security. By connecting communities through kai, our living landscapes can meet our physical and social needs, and enhance our resilience, self-reliance and health.
During the trial, 22 schools and 15 facilitators, involving approximately 4,500 students and 140 teachers explored some aspect of Sustainable Communities through Kai. In March 2019,  Toimata Foundation drew all the learning and experiences from the school clusters into a celebration booklet 'Enviroschools Sustainable Communities through Kai', that was launched at Tauwhare School in Waikato.
For further reading about the project and to downloaded the Sustainable Communities through Kai resource, click here or contact your Enviroschools Facilitator.