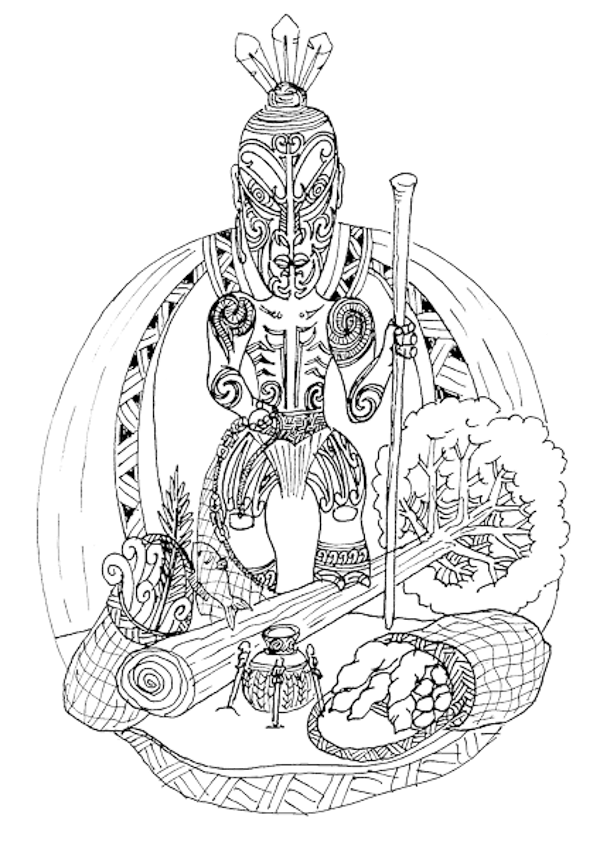 Tūmatauenga: Atua of strategy, determination, conflict and confrontation with qualities of focus, determination, steadfastness, endurance.
Kohikohi ngā kākano, whakaritea te pārekereke kia puāwai ngā hua.
Gather the seeds, prepare the seedbed carefully, and you will be gifted with abundance of food.
"So team, what shall we focus on as an Enviro-team next year?"
When Enviroschools lead teacher, Paula Sala, asked this question of the 50-odd students in the enviro team at the end of 2018, none of them anticipated that just one year later they would be cutting the ribbon to open their newly-constructed outdoor classroom. Or that creating an outdoor classroom would have taken the whole school by storm, with ideas, contributions and buy-in from curriculum leaders in each part of the school, as well as the wider community and businesses.
Discovering the Seed
Looking for inspiration for the year to come, the Enviroleaders at Fernridge School in Masterton visited South End School in nearby Carterton, an established Enviroschool readying itself for reflection at the Green-Gold stage. There, a circle of willow trees, surrounded by stools cut from logs, caught their imagination.
"The Earth School teachers took us to their outdoor classroom and we watched fascinated at the way their students engaged in the environment and with their learning", says Paula. "Back at school we reflected on our trip and used this to form our next steps – to find out more about outdoor classrooms. From here our project became a written goal for 2019."
The seeds of the idea had been planted.
Finding Fertile Soil
The fertile ground, upon which this seed-of-an-idea was planted, already existed at Fernridge School. This highly-engaged Enviroschool has a kaupapa of keeping students at the centre of learning, learning being authentic and real, and of play-based learning across the school.
When Paula outlined the idea at a teacher-only day, before the 2019 school began, she wasn't really surprised when Kim Hill, leader of the school's senior hub announced "Wow that's a cool idea, we can all do something with this."
Germinating the idea
Poipoia te kakano kia puawai
Nurture the seed and it will grow
That "something" became a whole-school focus on designing an outdoor classroom in the school grounds. The site chosen was part-demolition site, part-building site – a result of some old buildings being demolished and new ones being built. The idea of a simple circle of willow poles quickly gave way to creative designs that came from the seniors inquiry into outdoor classrooms. Ideas, drawings, cardboard replicas, models and 3D CAD models, were shared in assembly, assessed and voted on. The decision to use natural and repurposed materials wherever possible happened organically as part of the design process, reflecting the schools' embedded practices and Enviroschools Guiding Principles.
"We were really inspired to DESIGN. Students love it when learning is authentic and when they can be a part of something that is directly in their backyard. The 'Designing Te Ngātahi Learning' SDL tasks sparked the students' ideas and thoughts about what they wanted the outdoor classroom to be like. A personal highlight was our budgeting task. Students needed to figure out how to budget for what they wanted in their classroom and how they were going to make their ideas come to life without going 'over budget'. What great skills to teach our students!" – Kim Hill, Senior Team Leader.
Teacher-Aide Tammy Waitere was given the task of helping the kids come up with a final design which incorporated all of the favourite elements of the combined designs, and when she presented it to the board there was immediate and enthusiastic uptake – and an agreement to help fund it.
Planting and Nourishing
He rau ringa, e oti ai.
With many hands, the job will be finished.
The school successfully applied for a Countdown Growing for Good grant. Tammy was allocated Teacher Aide time to coordinate the project but she wasn't working alone. Every child in the school contributed in some way to the design and so there were many hands that helped bring it alive.
Lunchtimes throughout the year involved children moving earth and bark, planting and watering. During whole-school play pod every Friday, kids would choose to help move rocks and posts instead. There were different off-shoots of learning happening all the time from –  the recycling of things like tyres to bug house research and  exploring of ways to reuse and repurpose found and donated materials.
"We want our outdoor classroom to have all the sensory things so it is also a nice calming place for people who want timeout or just want to go in and explore. It has involved heaps of thinking which I enjoyed being part of." – Bella, Year 6.
Expert guests from the community came to share their knowledge and this really motivated everyone:
The Wairarapa Herb Society helped students learn about plants that could be used for nibbling, sniffing, calming and attracting bees.
Sam Rimmell from Aston Norwood Nurseries helped the students get underway with planting and propagating native plants.
The seniors undertook a further inquiry into creating habitats for bugs and birds and butterflies and a couple of young gardeners came to share their knowledge and help to build a no-dig garden.
A recently widowed friend of the school got busy producing seedlings and a mum came in on her day off to run a weekly gardening session.
The local and school community contributed materials such as old fence posts and battens, stones and tiles, bedding materials and plants.
Working bees got underway.
A landscaping company who shared the school's vision (recycled items, design etc) put the infrastructure in place for the school to then work their magic on. (The staff says this is an important consideration for any school planning on heading down this path!).
"There was a unifying of our school community. The planning, donations, collections and incredible amount of volunteer labour by students, whānau, staff and our wider community has created a one-of a-kind uniqueness that we now have in our school. We are extremely proud of the efforts and are intrinsically connected to it." – Paula Sala, Enviro Lead Teacher.
And so Te Ngātahi began to grow.
Harvesting
Kotahi te kākano, he nui ngā hua o te rakau
A tree comes from one seed but bears many fruit
And it's not just the outdoor classroom that has grown but the desire to nurture a healthy school environment.
"Looking after our schools' natural environment has now become part of what kids do as they play. Our gardens and grounds used to get trashed with the whole school out there doing play-based learning. Now, because they've all been involved with planning, developing and learning about habitats, they're super-respectful. They know what might be living in their school environment and are finding ways to play while being respectful of that." – Paula Sala, Enviro Lead Teacher.
"I really like the outdoor classroom because it makes the outside look nice. You have to water the plants to look after them and help them to grow. You have to be careful and respectful when you play there and look after it. My favourite part is the little fireplace, by the fence, and the logs that you can sit on around the fire to toast marshmallows" – Harlen, Year 2 Enviro-leader.
The opening ceremony in November 2019 was a huge celebration, with a ribbon cut, a blessing, waiata and haka, and kai for everyone. There were "tour guides" representing all year groups, proudly wearing their recycled "host" badges, talking and showing people around Te Ngātahi. The community turned out in force to celebrate the tiny idea that had grown and flourished in their midst.