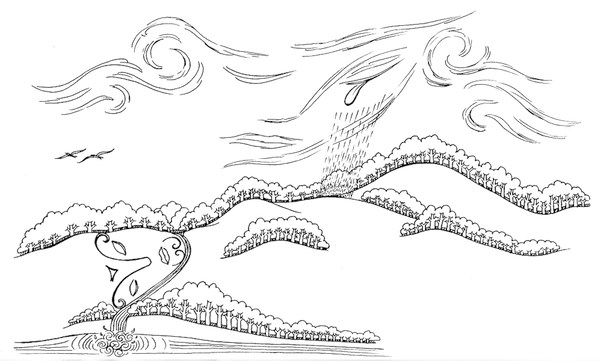 Ranginui_raua ko Papatūānuku
Student leadership on waste leads to new sustainability policy at Our Lady of the Rosary School
Supported by lead teacher Clinton Johnson, the Enviro-leaders at Our Lady of the Rosary School have always been able to choose projects they were keen to pursue – whether it be composting, gardening or helping in the community.
Having created a vision for their playground as a beautiful environment safe for all living things, some of the Enviro-leaders have been working over the last three years to address the amount of litter. They started by exploring the current situation: they identified where the litter was and what kinds of litter they had.  It was predominantly packaging from lunch boxes – like chippies, noodle packets, cheese and biscuits. They also looked at the waste in the rubbish bins.
Over time, they have tried different ways of dealing with it. Some groups focused on raising awareness amongst students about the problem. They spoke at assemblies, made posters and came up with reward programmes asking other students to make sure they put their rubbish in the bin  – and to make sure they used the correct bins: they didn't want landfill rubbish in the recycling and compost bins.
One group decided they wanted to persuade people to use reusable containers. In 2019 they surveyed the teachers and community about whether they were open to making changes to reduce the amount of packaging in lunchboxes.

Towards the end of that year (2019) the Enviro-leaders who had been driving this project – Jonathan, Conor and Adam, developed a powerpoint presentation to take to the Board of Trustees.  They wanted support for a new policy about school lunches to reduce waste and litter at the school.
"Our goal is to get the whole school to bring chippies in re-usable bags/containers or alternatively not bring chips," the boys said.
Their most recent audit of plastic rubbish in the classrooms had found at this rate the school would have 1274 plastic items in a week, 6370 in a month – and a whopping 50 960 in a school year. This had parallels with the global growth in plastic pollution.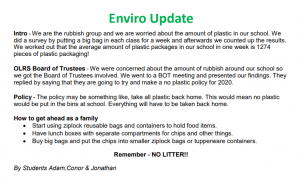 One of the school's parents and Board of Trustees member, Dion Howard, was inspired by the approach taken by the students. He liked the way they progressed from litter to plastic as a problem needing a whole community solution, rather than a focus on individual lunch boxes.
And the whole school community has been moving to acknowledge how important it is to use resources wisely and avoid waste. Classes contributed seedlings for sale in re-used yoghurt pottles, worm wee in wine bottles, and made re-useable bags and beeswax wraps to sell in the 2019 spring gala.
In response to this student leadership, Natasha Watson, the chair of the Board of Trustees decided to create a sustainability policy for the school to include the students' request – and to make clear the school's commitment to the other practices the Enviro-leaders had already set up: composting, worm farming, recycling. The new policy also recognises these practices are part of a bigger vision of learning and action.
The new policy starts like this:
"Our Lady of the Rosary School is a Catholic Integrated School which includes a commitment to care for our common home and be environmentally responsible stewards as we exercise our kaitiaki role towards our interactions with people, and the natural and physical environment."
With this clear whole school commitment, driven by students, there is a strong basis for future action and learning. Already, the school is noticing reduced plastic waste in their rubbish bins even with the disruption of Covid 19. And other students are showing their leadership to address plastic pollution in the wider community.
In November 2019 Rhylan and Conor from Room 3 organised a beach clean-up for the school, as an action for the "Be the Change" unit. Working with Lorraine from Petone Beach Clean-up Crew, they removed a range of rubbish from the beach, including cigarette butts, glass bottles, a fast food box, metal poles, and a load of plastic and even a sandal.
There was a great turn out of OLRS students and parents!