"Moriah children value themselves, others and their environment".
Moriah Kindergarten asked themselves recently what the above statement means, and what valuing something looks like.
On their journey toward becoming sustainable and valuing our environment, Moriah Kindergarten have been making their own small pēke (bags) out of recycled material.
They had discussed pēke in the wider environment and within their focus on 'Zero Waste'. They looked at pictures of plastic bags littering beautiful surroundings and the children were already very clear that "plastic bags choke sea creatures!".
They thought about what they could do at Kindy to reduce the number of plastic bags in the world, and considered the "Boomerang Bags" initiative where communities get together and create bags using recycled material. The bags are given to local shops so people can use them and then 'boomerang' them back.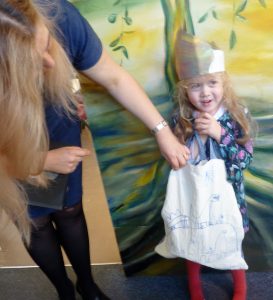 They decided to do their own version of Boomerang Bags, so that they didn't need to use any plastic bags for carrying things between Kindy and home. It was decided that they should be called "Hoki Mai Pēke" as the children were familiar with this language from the song "Pungawerewere", where it says "Haere atu, hoki mai" and from the pēke they had made previously.
The Kindy sourced more recycled materials from their community, including some second-hand shower curtains to line some of the pēke in case they were needed for wet or dirty clothing.
The children thought about things they liked and valued and drew pictures of these things on the bags, many of the pictures were of whānau members. They also drew pictures of what they thought a 'zero waste' beach, sea, or other environment scene would look like.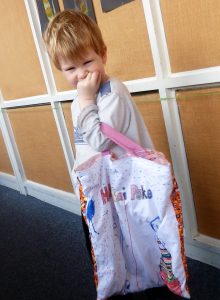 The children were also involved in the initial stages of sewing the bags together, sitting with the teacher at the sewing machine.
After that, as they needed to create more and more, they involved the wider community by asking for help from an elderly member of the community, who then did some sewing after the children had added their design work to the bags.
The connection the Kindy made with their community illustrates their Moriah (Jewish) Value of L'dor Vador which means "from generation to generation".
The children then chose treasures that they valued and treasured, to store inside the pēke. These included natural items such as feathers and small stones and glass marbles. They also put in bottle-tops with the letters of their own names in the bag, which showed value of themselves and developed their literacy skills too.
When in the car talking to her Mother, one child was passionately talking about the bags, illustrating that she was starting to understand the concept by saying…."No – they are RETURNING bags, they are RETURNING bags!" – Anya (child).
Teachers and parents have commented that the pēke been very useful for all of the stuff that is carried home from Kindy that doesn't fit in a child's small pack. The bags have come in use for all sorts of things around the Kindy that they would previously have used plastic bags for.
– This story has been adapted from a project story shared by teacher Rochelle Kirby.