We are pleased to announce the latest funding opportunity for Enviroschools, proudly sponsored by Earthwise.
Toimata Foundation has again partnered with Earthwise, a locally owned business based in Tāmaki Makaurau Auckland that has been making eco-friendly household cleaning and body-care products for over 50 years. Earthwise are providing funding for sustainable action and innovation projects across the Enviroschools and Te Aho Tū Roa networks.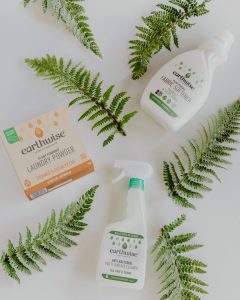 "We are proud to be a sponsor of Toimata, with sustainability at the heart of everything we do, this network shares a very similar ethos to us.  We are really excited about this partnership and the opportunity to continue to empower the next generation of young people and make a meaningful difference in communities across New Zealand." – Jamie Peters, Managing Director & Owner – Earthwise Group Ltd
For the Enviroschools network of schools and ECE centres, we have established the Earthwise Action Fund to provide a funding boost for student-led sustainable action and innovation projects.
During this inquiry/mahi around our sharing shelf supported by Earthwise and Enviroschool tamariki were empowered to share their thoughts and ideas collaboratively, learn to listen to one another, take on other's ideas, take ownership to know that their contribution, as a group and as individuals, is valued by kaiako, friends, whānau and the hapori whānui. – 2021 recipient See story here
The Earthwise Action Fund is available to support existing and emerging projects that help to nurture taiao/ environment and tangata/ people – local initiatives that showcase the Enviroschools kaupapa of working together for a more sustainable future. These projects might have elements that generate income for the Enviroschool or develop the capacity to share surplus or produce something specifically for the purpose of gifting to community.
Our project brought together all our tamariki, staff and whānau as well as the educational services and other community groups in our town, to work together for a more sustainable future! – 2021 recipient See story here
Two funding options were offered for 2022 – one for smaller scale initiatives within Enviroschools and another for large projects that involve the wider community.
2022 EARTHWISE ACTION FUND RECIPIENTS
Congratulations to the 16 Enviroschools from across Aotearoa New Zealand who were selected by Earthwise staff to receive funding for their Enviroschools project in 2022.
We look forward to seeing your projects come to life, with the support of funding from Earthwise.
Thank you to everyone who submitted an application, and congratulations to the successful Enviroschools. We will share more about each project (and include a link next to each project) as these develop during the course of the year.
A large part of our aim was to encourage students to be involved with every stage of the project so that they would take more ownership of it, so it was very encouraging to see them continue despite facing these multiple setbacks due to Covid. As a result, they have created a space that they can be very proud of. – 2021 recipient see story here