We are pleased to announce a new funding opportunity for Enviroschools, proudly sponsored by Earthwise.
Toimata Foundation has partnered with Earthwise, a locally owned business based in Tāmaki Makaurau Auckland that has been making eco-friendly household cleaning and body-care products for over 50 years. Earthwise are providing funding for sustainable action and innovation projects across the Enviroschools and Te Aho Tū Roa networks.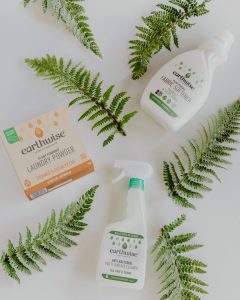 "We are proud to be a new sponsor of Toimata, with sustainability at the heart of everything we do, this network shares a very similar ethos to us.  We are really excited about this partnership and the opportunity to continue to empower the next generation of young people and make a meaningful difference in communities across New Zealand." – Jamie Peters, Managing Director & Owner – Earthwise Group Ltd
For the Enviroschools network of schools and ECE centres, we have established the Earthwise Action Fund to provide a funding boost for student-led sustainable action and innovation projects.
Two funding options are being offered for 2021 – one for smaller scale initiatives within Enviroschools and another for large projects that involve the wider community.
Applications opened on Friday 9 April and closed  Friday 14 May.
The Earthwise Action Fund is available to support existing and emerging projects that help to nurture taiao/ environment and tangata/ people – local initiatives that showcase the Enviroschools kaupapa of working together for a more sustainable future. These projects might have elements that generate income for the Enviroschool or develop the capacity to share surplus or produce something specifically for the purpose of gifting to community.
"We are delighted to be working with Earthwise to bring this opportunity to our nationwide networks.  There are so many inspiring initiatives in the Enviroschools and Te Aho Tū Roa networks and we would love to see more of them reach their potential with a funding boost.   These empowering initiatives are important for many reasons – community resilience, manaakitanga, developing practical skills, whanaungatanga, financial literacy, intergenerational learning, financial savings, youth entrepreneurship, advancing the green / circular economy AND more." – Kristen Price, General Manager, Toimata Foundation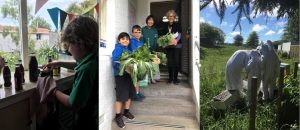 Across the Enviroschools network there are thousands of initiatives where students are part of the movement for locally grown and locally made.
June 2021 update:
The 2021 fund attracted 90 entries from all around Aotearoa. We were really impressed by the thought and creativity that went into all the applications. It was a difficult task to select the 11 successful recipients. Project ideas ranged from community gardens, penguin boxes, native plant nurseries, trading posts, bee hives, rainwater tanks, orchards, composting systems and much more.
The 2021 Earthwise Action Fund recipients are:
Lees Street Kindergarten – Southland
Wainui Beach School – Gisborne
Hillpark Kindergarten – Auckland
Whareama School – Wellington
Lincoln High School – Canterbury
Ōpoho School – Otago
Spotswood College – Taranaki
Opunake Communities Kindergarten – Taranaki
Ngataki School – Northland
Matangi Kura – Waikato
Kidsfirst Kindergartens Lincoln – Canterbury
Thank you to everyone who submitted an application, and congratulations to the 11 successful Enviroschools. We will share more about each project as these develop during the course of the year. #earthwiseactionfund